Community Outreach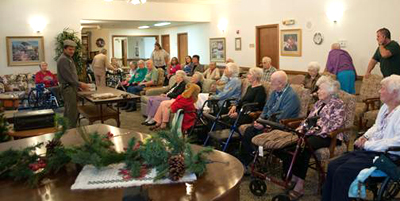 When the Desert Ark Community Outreach Van "docks" at your site, be ready to make new discoveries about our unique Sonoran Desert. Desert Ark Community Programs feature live Sonoran Desert animals and may include interactive lectures, slide shows or activities. We enjoy working with all ages and types of groups. Our skilled education specialists can tailor our programs to the needs of your audience.
We travel throughout Southern Arizona as well as areas within an 8 hour round-trip drive from the Desert Museum, although we are unable to take live animals outside the state of Arizona. Live animals may include reptiles, birds, mammals and insects, although the particular animals we bring vary by program.
Browse the sections below to find the program that is right for your group:
Small group program: 50-60 minute program for groups of up to 30. Live animals help to illustrate a variety of natural history concepts and topics. Some classes involve hands-on activities with artifacts and/or the opportunity to touch animals.
Auditorium program: 50-60 minute lecture-demonstration for groups of up to 150. Live animals help to illustrate a variety of natural history concepts and topics. Participants will be able to view live animals, but will not be able to touch animals or artifacts.
Event-booth demonstration with live animals: Desert Museum educators interact with your group in a conference or festival setting. Hands-on exploration of artifacts is interspersed with live animal interpretations. (Depends on suitability of environment for live animals).
Private and Corporate Special Events: For customized opportunities for up-close and personal interaction with Sonoran Desert animals, raptor flight or other animal demonstrations, call or email the Conservation Education and Science Department at education@desertmuseum.org, 520-883-3021.
Off-season: June 1 - August 31
Libraries and Non-Profit Groups
Businesses and Other Community Groups
Schools and Youth groups
Hourly Rates
$180 for first hour
$75 for each additional hour
$400 for first hour
$100 for each additional hour
In-season: September 1 - May 31
Libraries and Non-Profit Groups
Businesses and Other Community Groups
Schools and Youth groups
Hourly Rates
$180 for first hour
$75 for each additional hour
$750 for first hour
$200 for each additional hour
Business Affiliates at Supporter or higher levels: 20% discount on programs
Travel Fees for distances over 60 miles one-way:

| | |
| --- | --- |
| 60-100 miles | $150 |
| 100-150 miles | $250 |
| 150+ miles | $250 plus $1.60/mile for each mile over 150 |
Register Online