Yes! I want to support
the Desert Museum's 2015 Annual Fund.
Please select the amount of your gift to the Spring Campaign 2015 below.
Once you click the "Continue" button, you will be taken to a secure shopping cart to complete your gift. All gifts are fully tax-deductible.
"We believe that by experiencing the beauty and majesty of the Sonoran Desert, you will come to love it, appreciate it, and want to ensure that future generations have the opportunity to know it as well."

The rare Pima pineapple cactus is a small succulent. Although its total range may cover up to 600 square miles in Pima County, researchers estimate within that expanse only about 20 populations exist, and individual Pima pineapple cacti are only lightly represented on those lands.
Habitat loss and fragmentation are the primary threats to this species.
Why should it matter if we don't have this little succulent species on the planet? Because humans and the Earth are intricately connected to and dependent upon other species for survival. From the pollination of crops and plants, to the carbon storage by the world's forests, the planet is dependent upon the biodiversity of flora and fauna for its continued existance. We neglect this at our own peril.
The Arizona-Sonora Desert Museum is one of a few organizations that cultivate and display the Pima pineapple cactus — a small species linked to a much more profound story. For 63 years the Desert Museum has been dedicated to the study and stewardship of the Sonoran Desert region and its vast biodiversity. Whether you live here or visit often, with your support, the Desert Museum will continue to advocate for the conservation of this land.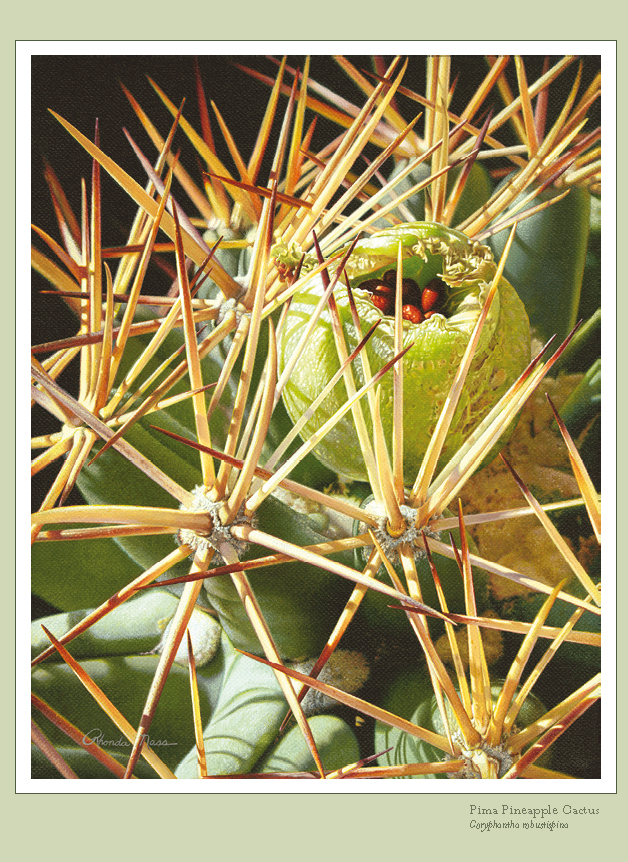 Pima Pineapple Cactus Fruit & Flower
(Coryphantha scheeri var robustispin)
© Acrylic Paintings, Rhonda Nass
Vanishing Circles Collection, Arizona-Sonora Desert Museum
For additional information contact Camille Pons, Development Officer, 520/883-3055, cpons@desertmuseum.org
Printable Version