Yes! I want to support the Desert Museum's 2016 Annual Fund.
Please select the amount of your gift to the Spring Campaign 2016 below.
Once you click the "Continue" button, you will be taken to a secure shopping cart to complete your gift. All gifts are fully tax-deductible.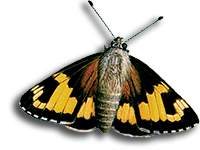 rare
With a wingspan between 1¾ and 2⅛ inches, this full-bodied butterfly is the largest and rarest of the Megathyminae, or giant skippers. Skippers (Hesperioidea) are distinct in the shape of their antennae, which have the clubbed tip bent slightly backwards. The "skip" in their name refers to the brisk pattern of their flight. The Huachuca giant skipper is on-the-wing in the Fall, and cannot be observed at any other time of the year. The adults emerge from their pupal chambers within the succulent leaves of Parry's Agave, where earlier, as caterpillars they nourished themselves. The adults are very fast-flying, and are beautiful to behold as they abruptly perch on their host plant or imbibe moisture and nutrients from damp earth.
vulnerable
As few as 20 populations of this butterfly remain, and these occur on hillsides in the Huachuca Mountains of Southern Arizona. Skippers occupy similar sky island habitats in Sonora and Chihuahua, Mexico where Parry's Agave grows. Habitat destruction is endangering skippers. Wildfire and overgrazing threaten the survival of this species.
saving species, conserving life
Why save species? Biodiversity is the foundation of life itself. It provides us with functional ecosystems in which fundamental processes such as photosynthesis, decomposition and nutrient cycling take place, providing us with essential services such as filtration of air and water. Bringing back biodiversity across large landscapes will help save bees, bats, hummingbirds, moths, flies, wasps, beetles, and butterflies, including the Huachuca giant skipper.
please join us
The Desert Museum has worked to understand, connect people to and protect the natural systems of the Sonoran Desert Region since its founding in 1952. We invite you to partner with us in our mission of conservation, and support us in our continuing work.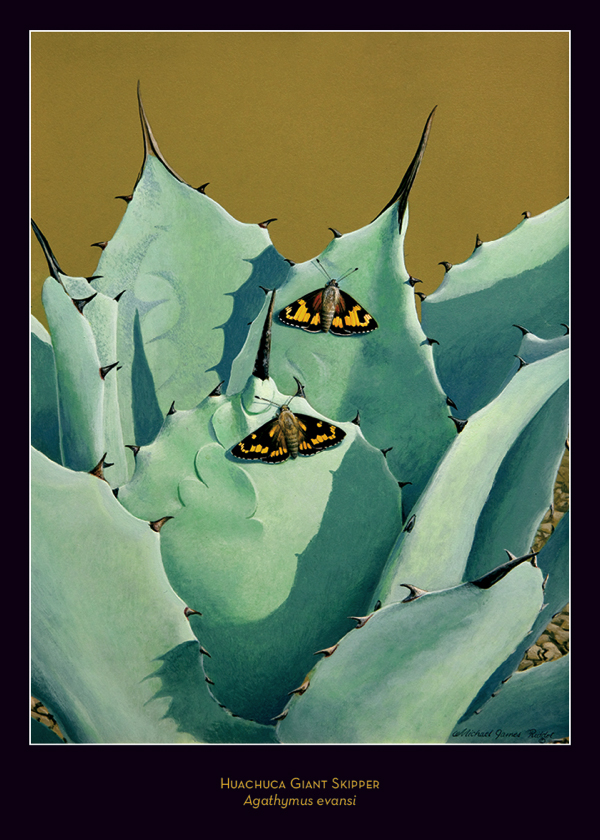 Huachuca Giant Skipper
(Agathymus evansi)
© Acrylic Painting, Michael James Riddet

Vanishing Circles Collection, Arizona-Sonora Desert Museum
For additional information contact Camille Pons, Development Officer, 520/883-3055, cpons@desertmuseum.org
Printable Version