Yes! I want to support
the Desert Museum's 2014 Annual Fund.
Please select the amount of your gift to the Spring Campaign 2014 below.
Once you click the "Continue" button, you will be taken to a secure shopping cart to complete your gift. All gifts are fully tax-deductible.
Not that long ago, Thick-billed Parrots roamed freely in southeastern Arizona. The last confirmed sighting of a naturally occurring flock of these beautiful birds was in 1938. Today, the parrots' range is limited to high elevations of northern Mexico. There are various reasons cited for their decline including unregulated shooting and the loss of necessary habitat.
The Arizona-Sonora Desert Museum is dedicated to the interpretation of all animals and plants that share, and have shared, this remarkable region we all cherish. We encourage you, your family and friends to visit our Thick-billed Parrot exhibit the next time you visit the Desert Museum.
Our commitment to these remarkable birds is enduring, and we need your help to ensure that they and the other members of the Museum's living collection will be available for the public to experience and enjoy in the years ahead.
We thank you... for your ongoing support of the Arizona-Sonora Desert Museum's critical mission.
Our commitment to these birds is enduring!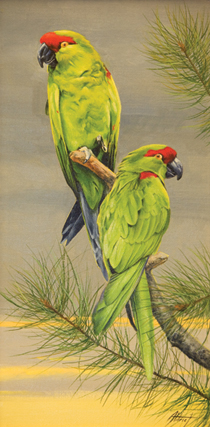 Thick-billed Parrots
Rhynchopsitta pachyrhyncha
© 2014 Edward Aldrich
Oil, 15" x 27.5"
This painting is one of 68 works of art in the Vanishing Circles art collection of the Arizona-Sonora Desert Museum. The paintings and drawings in the collection were acquired for the Museum by the Priscilla and Michael Baldwin Foundation. Each of the animals, plants, and habitats portrayed in this collection is endangered, threatened, or otherwise compromised in the Sonoran Desert Region.
For additional information contact Camille Pons, Development Officer, 520/883-3055, cpons@desertmuseum.org
Photography Credits · Printable Version