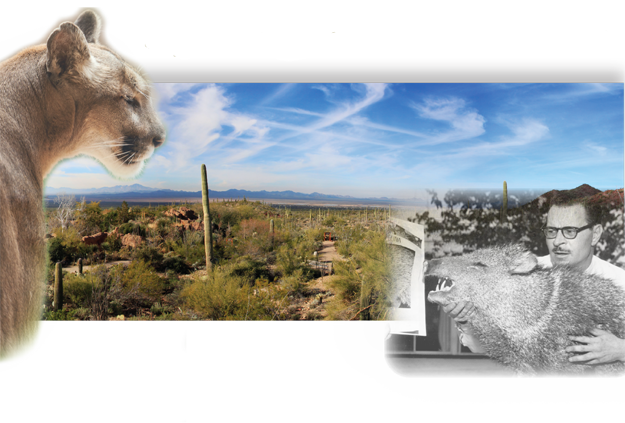 Thank you for your support
Please select the amount of your gift to the Year End Campaign 2015 below.
Once you click the "Continue" button, you will be taken to a secure shopping cart to complete your gift. All gifts are fully tax-deductible.
I remember mine quite well. It was 1958, I was seven years old and my family had just relocated to Tucson from a much different climate and landscape. My parents decided the very best way to introduce our family to our new home was to spend the day at this remarkable institution learning about the animals, plants and geography found in this unique environment called the Sonoran Desert. Little did I know then how much of an impact the Arizona-Sonora Desert Museum would have on shaping our lives, attitudes and understanding of the natural world in the years ahead. We were amazed by the beauty and tranquility of the desert, drawn emotionally to the majesty and charisma of the diverse wildlife (especially George L. Mountainlion), and intrigued by the science and conservation exhibits offered to the public such as "Water Street" and "The Underground Tunnel"… now called "Life Underground".
Soon after this first trip to the Desert Museum a remarkable man named Hal Gras visited our elementary school along with the memorable Desert Ark animals. He instilled in us a deep respect for conservation rather than destruction of our environment, and to cherish the wild creatures who share our planet. Helping him deliver this critical message to a group of totally entranced fourth graders were Olivia de Javelina, Patrick O'Possum, Julius Squeezer and the other wonderful animal ambassadors from the Museum's Desert Ark educational collection. I was hooked for life.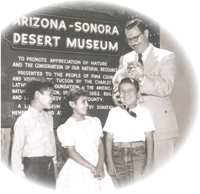 In fact I remember going home and insisting that my parents send a contribution to the Museum the very next day. This may have been the beginning of my life as a fundraiser! Years later, as a young adult, I had the pleasure of spending Thanksgiving dinner in a beautiful desert location with Hal, his wife Natie and many of the animals from the Desert Ark at that time. It is an experience I will always remember. The critical importance of the Museum's mission became very clear to all of us at that gathering. We must do everything possible to ensure that this remarkable region of the world we all love and cherish is protected and preserved for future generations. We must encourage others to treasure the desert.
Today's Museum has grown and changed in many amazing ways, yet the core mission of the Museum remains the same. It is truly a contemporary version of the founding vision put in place by William H. Carr and Arthur N. Pack. Since that time many talented board members, staff, docents and other volunteers have helped shape and create the visitor experience we so proudly offer our guests today. It is no surprise that today's Desert Museum has been ranked in visitor polls over the years as one of the most important Museum's in the world. I once wrote that "over time great institutions, like great leaders, have helped shape public awareness and culture itself. The Desert Museum has been, and will continue to be, one of those institutions that has inspired millions of people around the world to find their place in nature."
It requires $20,000 each day to operate today's Arizona-Sonora Desert Museum. This is a significantly larger number than in the early days, yet much of this income is still derived from charitable gifts and contributions from our members and friends. People like you and me. The Museum has had a positive impact on my life, and I assume it has yours as well. I am also certain it will continue to do so for the other young children and their families who visit for the very first time in the years ahead. Let's work together to ensure that their first experience is one filled with lasting memories of their visit which will lead to a personal life-long commitment to conservation and respect for all living things.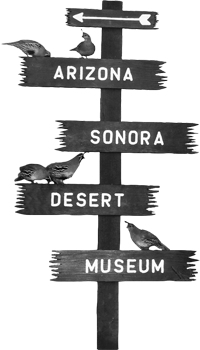 My very best,

Robert Edison
Executive Director Emeritus
For additional information contact Camille Pons, Development Officer, 520/883-3055, cpons@desertmuseum.org
Printable Version