December 2013
"What are they?"
"Are they snakes?"
"I've never seen anything like this before!"
"They look like grass swaying in the current but the blades have eyes!"
Yes! I want to support
the Desert Museum's 2013 Annual Fund.
Please select the amount of your gift to the Year End Campaign 2013 below.
Once you click the "Continue" button, you will be taken to a secure shopping cart to complete your gift. All gifts are fully tax-deductible.
I love my job! I get to work with curiously delightful sea creatures like garden eels that are charismatic (and smart, too!). Those eels are the "blades that have eyes" and they look a little like Muppets swaying back and forth in unison in the water. I also work with two pufferfish that are trained to eat from different colored poles so they don't fight over food. You can tell if one is having a bad day if his tail is curved to one side; and a really bad day if he is puffed up!
The Desert Museum not only brings the ocean to Tucson, but it also allows you to experience it firsthand. At the Warden Aquarium touch tank kids (and grown-up kids) who have only handled or seen hard, dried-up starfish have the thrill of seeing live starfish wriggling and ambulating on the sand or sometimes even in their HAND!
As magical as these experiences are, the Desert Museum does continue to need your help to make sure they are always here for you. Your year-end gift will make that happen.
The animals in our aquatics program are one part of the Museum's larger living collection. Many of our animals spend their entire lives with us requiring feeding, daily care by staff, veterinary care, and, as they age, they sometimes need assistance in special retirement facilities on our grounds.
Your support ensures that on your next visit to the Desert Museum the hummingbird aviary is teeming with these amazing birds spinning and buzzing around you; and that Cruz, the Museum's new mountain lion who is now in his teenage years, will continue to thrive into adulthood; and that Desert Ark programs continue to reach the children of Southern Arizona. Your support is what makes this, and so much more, possible.
My colleagues and I love what we do. But we can't do it without you!
Your contribution (large or small) is important and appreciated and will help support the Desert Museum today and tomorrow. Join me in making a generous tax-deductible gift to the Museum's year-end annual fund today.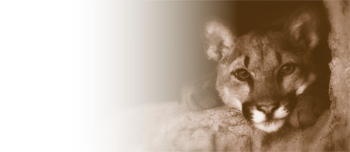 Sincerely,

Debbie Hutchinson
ASDM Aquarist
For additional information contact Camille Pons, Development Officer, 520/883-3055, cpons@desertmuseum.org
Photography Credits · Printable Version