Volunteer Opportunities at ASDM
Thank you for your interest in volunteering with the Arizona-Sonora Desert Museum!
For more information, select 'Tortoise Adoption Program (TAP)' in the list below.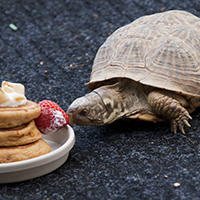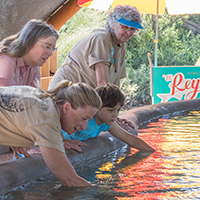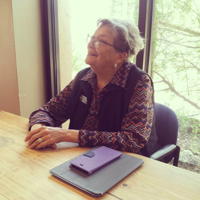 Volunteer Opportunities are available in the following areas: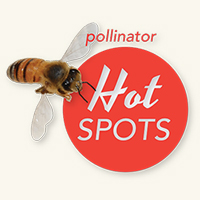 Volunteer Description:

Interested in helping the Desert Museum with an ongoing research project? Consider becoming a Citizen Scientists with our Pollinator Hotspots Program.

Benefits:

This citizen science opportunity is a fun way to contribute towards the identification of Pollinator Hotspots - areas of particularly high density across the Sonoran Desert landscape that provide essential resources for pollinators.

Requirements:

If you're interested in helping with this project, there is no need to submit a volunteer application; just visit the Pollinator Hotspots page for more information on getting involved!

Current Openings:

Flexible
Volunteer Description:

What do people learn at the Desert Museum? Help us find out! We need volunteers to help us collect responses from our guests. The evaluation and survey volunteer helps the Museum improve its programming by collecting feedback from visitors and entering survey data.

Benefits:

In addition to the Museum Volunteer Benefits package, volunteers gain experience in evaluation techniques and customer service, and opportunity to review data reports.

Requirements:

Available one day a week for our summer Saturday night's events. Please see times below. Physical requirements: Must be able to lift 10 pounds Skills/knowledge required: Outgoing, friendly personality. Enjoys talking to people. Able to approach strangers and invite their help. Organized and detail-oriented.

Current Openings:

Saturday evenings 5pm to 9 pm, May 18th through August 31st, 2019.
Volunteer Description:

Volunteers in this position are stationed in the Ironwood Gallery; they act as friendly and knowledgeable representatives of the Museum while monitoring the gallery exhibition space. Duties include (but are not limited to): reinforcing gallery rules, assisting with clerical tasks, organizing materials, answering phone calls, assisting with the sale of artwork and maintaining a clean exhibit space.

Benefits:

This is a great opportunity for anyone who enjoys being around creative, like-minded people. Art Institute volunteers have the chance to interact with museum guests from around the world; they also receive first-hand access to new gallery exhibits, featured artists and special Art Institute programing. If you're looking for a position that offers the flexibility to work on your own projects (in between gallery visitors), this is the environment for you!

Requirements:

Applicants must be able to make a 3-6 month commitment, volunteering 3 hours, once a week. Applicants should be comfortable using technology and be open to selling (or learning how to sell) artwork.

Current Openings:

Tuesdays (1:00pm - 4:00pm), Wednesdays (10:00am -1:00pm), Saturdays(1:00pm - 4:00pm), or Sundays (10:00am-1:00pm) or Cool Summer Nights Events (Summer Saturday nights 4pm - 9pm)
Volunteer Description:

Volunteers in this position are assigned but not limited to support of the Stingray Touch Exhibit under the HIIZ (Herpetology, Ichthyology & Invertebrate Zoology) Department. Volunteers are support for the animal Keeper staff. Additionally, volunteers in this role will engage and guide guests with instructions, guidelines, interpretation and animal contact. This includes the guest feeding experience and other husbandry-related tasks and activities. Volunteers may also help behind the scenes with the HIIZ (Herpetology, Ichthyology & Invertebrate Zoology) Department.

Primary Specific Tasks:

Assist HIIZ Keeper staff,
Assist with basic stingray husbandry (i.e., logging observations, AM diet prep),
Interact with Museum visitors,
Help facilitate guest entry and guest services while at the stingray exhibit,
Assure the safety of both the stingrays and guests at all times,
Stingray pool-related tasks,
Assist with enrichment activities,
Other tasks may be assigned.

Benefits:

This is a unique opportunity to volunteer with stingrays and other HIIZ collection animals at an AZA accredited, world-class institution. Volunteers receive the opportunity to expand upon their public speaking skills while gaining hands-on experience. Great for resume building and career building experience.

Requirements:

Applicants must be at least 18 years of age. Volunteers must have the ability to bend, kneel and balance while doing a variety of tasks; they must also be comfortable lifting up to 25 lbs. Applicants should be comfortable helping outdoors throughout the year and have the ability to work cooperatively with others in a complex and busy social environment. Having a positive attitude is very important, and must be willing to follow directions. Preference will be shown to applicants who can demonstrate good general communication skills. For the safety of the animals, applicants must be able to think quickly in demanding situations while adhering to HIIZ department protocol. Applicants should have a clear understanding of the boundaries related to animal interactions.

Current Openings:

Mondays 8am - 12pm or 12:30pm - 4:30pm, Thursdays 8am - 12pm, or Sundays, 8am - 12pm. We are asking for a minimum of 6 months commitment. Additional Summer Shifts are Saturday nights from 5:30pm-9:30pm during our Cool Summer Nights Events (CSN, May - Sept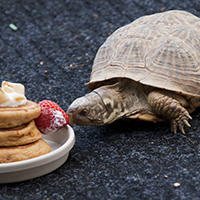 Volunteer Description:

The Desert Museum's Tortoise Adoption Program (TAP), benefits the welfare of captive and wild desert tortoises in the Tucson area. TAP volunteers assist staff with phone calls and emails from the public, who request information about the program; volunteers also travel to prospective adoption sites and conduct yard inspections before tortoises are placed.

Benefits:

This is a great opportunity for individuals who are interested in wildlife conservation. TAP volunteers interact with community members who are passionate and interested in gaining knowledge on tortoise care. This volunteer position is also done from home!

Requirements:

Applicants must be 18 years or older to participate. Prospective volunteers must be able to make a minimum of a one year commitment, volunteering once a week; please keep in mind that during the winter/spring months, hours decline due to the inactivity of the tortoises. Volunteers must be able to move around yards to inspect tortoise areas. Volunteers also need to have access to a phone, the internet and their own transportation.

Current Openings:

Fridays
Volunteer Application Form
If the position aligns with your interests and availability, please fill out the following form:
If you're having trouble accessing the online application, please print this application form (PDF) and mail it to Volunteer & Internship Programs Manager at: 2021 N. Kinney Road, Tucson, AZ 85743.
If you have any questions or need additional information, please don't hesitate to call the Volunteer Programs Manager at: 520-883-3071.