Nature Illustration Certificate Program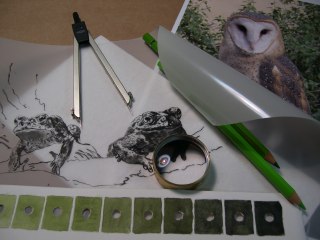 Discover your talent as an artist or draw for fun, while you enjoy the surroundings at the Arizona-Sonora Desert Museum. The Art Institute offers individual classes as well as a certificate of completion program in nature illustration. The unique backdrop of the Museum becomes your classroom while you learn to draw birds, mammals, insects and botanicals. You can also participate in a wide variety of classes and workshops including oil painting, field sketching, watercolor and photography.
Experienced, professional artists will provide individual instruction in the classroom setting located in the Baldwin Education Building at the Arizona-Sonora Desert Museum. Whether you sample a few classes or complete the certificate program, you will increase your appreciation and knowledge of the desert.
Required Courses
The following 12 courses are required if you wish to receive a Certificate of Completion in Nature Illustration. The recommended sequence of courses is listed below. This succession is appropriate for both the certificate and non-certificate student. Classes can also be taken in the order determined by their prerequisites. Courses consist of exercises, critiques, demonstrations and homework assignments. A list of supplies for each course will be sent with your class confirmation.
Pencil I
Pencil II
Color Mixing
Composition
Perspective or Light on Form*
Watercolor I
Watercolor II
Colored Pencil I
Colored Pencil II
Pen and Ink I
Pen and Ink II
Anatomy or Botany*
*class of student's choice
Elective Courses
Elective courses serve a variety of purposes. They are all designed to increase the participant's knowledge, ability and experience in nature illustration. In addition to the 12 required courses, you must take at least 100 hours of elective classes. The number of elective classes offered in any one year may vary. Workshops and classes that count toward the Nature Illustration Certificate are noted as Certificate Elective Courses in the catalog. Photography courses are not a part of the Nature Illustration Certificate Program and are considered non-certificate electives.
Portfolio Review
Upon completion of all coursework, you will be ready for the portfolio review. Call the Art Institute Director for more information.
The Nature Illustration Program must be completed in its entirety in order to receive a Certificate. Eighty percent of a class must be attended in order to receive credit for that class. You have seven years to complete the certificate program.