Dining at the Desert Museum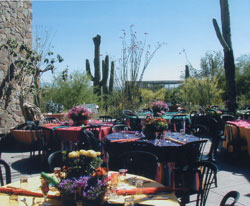 Ironwood Terraces
Ironwood Terraces
A casual multi-station food court, offering a complete menu including children's items, open every day.
Daily 10:00 a.m. - 3:00 p.m.
Dinner on Cool Summer Nights (Saturdays, June - August):
5:00 p.m. - 9:00 p.m.
Ocotillo Café
Offering fine dining, open seasonally for lunch in winter and spring, and for dinner on Cool Summer Nights. The Chefs utilize the freshest ingredients available to create regional southwest cuisine. For reservations, please call 520-883-1380 ext. 212.
Ocotillo Menu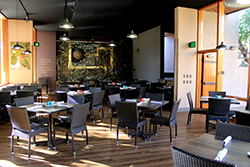 Ocotillo Café
The Ocotillo Café is currently closed for remodeling.
Beginning Wednesday, December 14th 2016 the Ocotillo will be open from 11:00 a.m. to 2:30 p.m. Wednesday through Sunday.
Phoebe's Coffee Bar
Offering hot and cold drinks, pastries, sandwiches, ice cream and other snacks.
Open Daily:
8:30 a.m. - 5:00 p.m. Oct-Feb
7:30 a.m. - 5:00 p.m. Mar-Sept

Cool Summer Nights
7:30 a.m. - 5:00 p.m. Sun-Fri
7:30 a.m. - 10:00 p.m. Sat
The Cottonwood
Snack shop offering hot and cold drinks and ice cream.
Daily 10:30 a.m. - 3:30 p.m.
Picnics
There is a small public picnic area just outside the Museum's entrance. Outside food is not allowed on Museum grounds, except to accommodate food allergies/intolerances or religious restrictions.