Dining at the Desert Museum
Summer Saturday Evening Hours (June-August)
Ocotillo Café Restaurant:
The Ocotillo Café is open for fine dining on Summer Saturday evenings from 5:00 p.m. until 9:00 p.m. Reservations are recommended as some dates do sell out. Call: 520-883-5705.
Ironwood Terraces Restaurant:
10:30 a.m. - 9:00 p.m.
The Cottonwood (snacks):
10:30 a.m. - 9:00 p.m.
Phoebe's Coffee Bar:
7:30 a.m. - 10:00 p.m.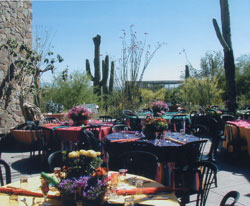 The Ironwood Terraces, a self serve grill, offers a complete menu including children's items and is open everyday. Special menus are available for tour groups, school groups, and special events. Open 10 a.m. - 3 p.m.
---
The Ocotillo Café offers fine dining, and is open seasonally for lunch in winter and for dinner on Summer Saturday Evenings.
Lunch: 11:30 a.m. - 3:30 p.m.
Nov 19th-21st & Nov 23rd-25th 2012
Dec 26th 2012 through April 22nd 2013
Dinner: Saturdays, June - August.
Our Chefs utilize the freshest ingredients available to create our Arizona-Sonora regional cuisine. Please call for reservations 520-883-5705.
---
Phoebes Coffee Bar offers hot and cold drinks, pastries, sandwiches, ice cream and other snacks.
---
Cottonwood snack shop offers hot and cold drinks and ice cream.
---
Picnics: We have a small picnic area near the Museum entrance.
---
A variety of high-quality, delicious menus:
Ironwood Terraces Menu
Ocotillo Café Menu
School Group Menu
Tour Group Menu
Catering Menus
Mark A. Bianchi, Owner / Operator, Ironwood Food Services
Nick Ruman, Executive Chef / Director of Food and Beverage