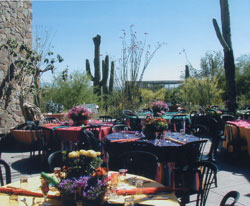 Ironwood Terraces
Dining at the Desert Museum
The Ironwood Terraces, a casual multi-station food court, offers a complete menu including children's items and is open every day. Ironwood Terraces Menu.
Daily, 10:00 a.m. - 3:00 p.m.
Sunday, April 27th, 2014: Due to a special event, the Ironwood Terraces will be closed all day. Phoebe's Coffee Bar will feature an expanded menu — a grill will serve hamburgers, cheese burgers, hot dogs and chicken breast sandwiches on Phoebe's patio from 10 a.m. - 3 p.m. in addition to the regular Phoebe's menu items.
---
The Ocotillo Café offers fine dining, and is open seasonally for lunch in winter and spring, and for dinner on summer Saturday nights. The Chefs utilize the freshest ingredients available to create Southern Arizona cuisine. For reservations, please call 520-883-5705. Ocotillo Café Menu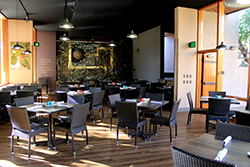 Ocotillo Café
Lunch:
11:00 a.m. - 3:30 p.m.
Dec 26th 2013 through April 20th 2014
Dinner on summer Saturday evenings (June - August):
5:00 p.m. - 9:00 p.m.
---
Phoebes Coffee Bar offers hot and cold drinks, pastries, sandwiches, ice cream and other snacks.
October - February
8:30 a.m. - 5:00 p.m.
March - September
7:30 a.m. - 5:00 p.m.
June - August, Saturdays
7:00 a.m. - 5:00 p.m. Sun-Fri
7:30 a.m. - 10:00 p.m. Sat
---
The Cottonwood snack shop offers hot and cold drinks and ice cream.
Daily, 10:00 a.m. - 2:00 p.m.
---
Picnics: There is a small public picnic area just outside the Museum's entrance. Outside food is not allowed on Museum grounds.
---
Mark A. Bianchi, Owner / Operator, Ironwood Food Services