The Desert Museum Docents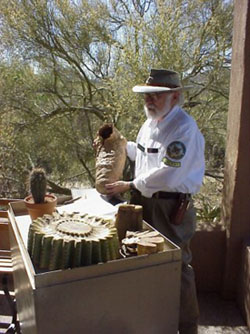 Who are Docents?
Docents are trained volunteers whose major responsibility is to help people on the Museum grounds and in the community better understand and appreciate the Sonoran Desert region. Docents are adults of all ages, walks of life and educational backgrounds. There are currently over 200 docents volunteering once per week or more at the Museum. Training classes begin in the last week of August and continue for 15 weeks.
How can you get involved?
Thanks for your interest in the Desert Museum's docent program. If you are interested in joining the next docent training class (scheduled for the fall of 2017) please fill out and submit an online application. If you're having trouble accessing the online application, please print this application form (PDF) and mail it to Allison Miller (Volunteer & Internship Programs Manager at: 2021 N. Kinney Road, Tucson, AZ 85743.
You will be contacted in the spring of 2017 for an interview. View the tentative class schedule so you can mark your calendars early!
In the meantime, if you are interested in pursuing other volunteer opportunities at the Desert Museum, please contact Allison Miller, our Volunteer Manager, at 883-3071 or by email: amiller@desertmuseum.org.
What is Docent training like?
Trainees meet at the Museum for a three-hour class, two weekday mornings each week for fifteen weeks (some classes are all day sessions). The first week consists of four morning orientation sessions. The classes are taught by Museum curatorial staff and educators. The curriculum is coordinated by the Interpretive Program Manager, Marie Long, and focuses on such areas as causes of deserts, geology of the Sonoran Desert, ecological concepts, the flora and fauna of the region (with emphasis on desert adaptations and interrelationships), interpretive methods and Museum philosophy.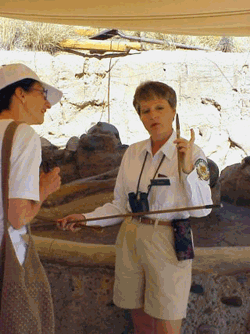 The course is taught in the Museum's Education Building classrooms and on the museum grounds. Trainees are required to spend time on the Museum grounds, observing docent tours and interpretive presentations. Trainees must receive passing scores on section quizzes, mid-term and a final exam. Trainees are expected to attend all classes. They may miss no more than three sessions, and these must be made up. Upon successful completion of the course, trainees attend a graduation ceremony and receive diplomas as they are welcomed into the Museum family. You are welcome to browse through the most recent course outline, though the course changes from year to year.
Docent Duties
A docent's primary responsibility is interpretation on the Museum grounds. Such interpretation consists of conducting tours for general visitors and performing interpretive programs or special activities such as theme talks, live animal interpretations, or being stationed at a cart or exhibit.
The Museum requires a minimum two-year commitment to the Docent Program. To maintain active status, docents are required to donate a minimum of 144 hours of interpretation per year on the Museum grounds.