Museum Explorers Camp
Entering Grades 1-6 in Fall 2014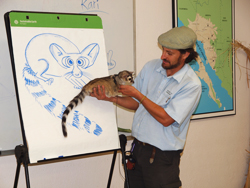 Dates for Museum Explorers Summer Camp 2014
1st session — July 14-17 or
2nd session — July 21-24
Sign Up Online
.
See the museum as you never have before! Our hands-on, minds-on day camps will open your eyes to the wonders of the Sonoran Desert region. Museum Explorers observe live animals, conduct science experiments, make cool crafts, create art with the Museum's Art Institute, sample desert foods, hike in the desert and more!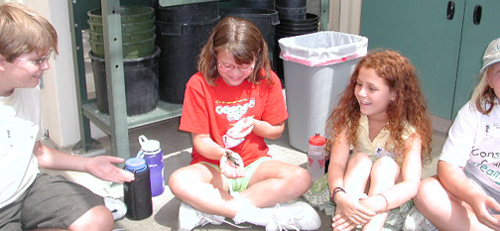 ---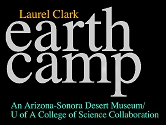 Earth Camp opens eyes and minds to our unique, interdependent and awe-inspiring planet, drawing connections from our homes, to our region, to the globe, and to what we can learn about Earth from space. Earth campers work in teams to develop awareness and understanding of our planet's ecosystems and how to better live in harmony with the natural world.
Students learn about the Sonoran Desert ecosystem and current enviornmental issues while hiking, camping, doing field research and exploring our beautiful desert.
Earth Camp is a partnership between the University of Arizona College of Science, Project WET, the Planetary Science Institue and the Arizona-Sonora Desert Museum.
More information about Earth Camp
Earth Camp - Middle School (Entering grades 7, 8 or 9)
LOCATION: ASDM, UA, Sky Center on Mt. Lemmon & Biosphere 2
DATES: June 9-13 & 16-20, 2014
HOURS: 8 a.m. - 5 p.m. with 3 overnights
FEES: $1000.00 ($900 for ASDM Members)
Earth Camp - High School (Entering grades 9, 10, 11 or 12)
(not offered in 2014)
---