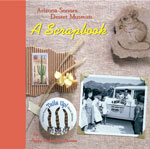 Extended Entries to the ASDM Scrapbook
Old Coyote
by Peggy Pickering Larson & Karen Krebbs
Staff and visitors often become attached to animals on exhibit at the Museum, and elderly animals are cared for and live out their lives in comfort there. Rick Daley, in speaking of such residents wrote, "While some of those living things outdistance the humans who care for them, many others reach the end of their natural lives, leaving a void in the exhibits and, more importantly, in our hearts."
Certain lions, bighorn sheep, bears, otters, wolves, and others come to mind in this regard. Karen Krebbs wrote about one of these, our "Old Coyote."
On May 22, 1982 two seven week old coyote pups were delivered to the Desert Museum by Amanda Blake, actress, ASDM Trustee, and wildlife conservation enthusiast. Amanda Blake played 'Miss Kitty' on the television show Gunsmoke. These two coyote pups had been born wild in Phoenix and orphaned. They were a donation from a Phoenix Animal shelter.
Both of these coyotes lived a long healthy life at the Desert Museum as exhibit animals. These two coyotes used to thrill visitors to the Desert Museum early in the morning or at feeding time with their howling. One of the coyotes had to be euthanized on September 21, 1995 after breaking his leg in several places. . . Animal bones get weak and fragile just as humans do when they grow old too.
The other 'Old Coyote' continued to do well but as the years went by he began to have old animal problems. He became hard of hearing, his eyesight failed, and arthritis set in. He continued to move around well within the exhibit. The Keepers pampered and gave him extra attention. He was given a wooden ramp to walk up to go inside his den and was put on a special diet for his condition. The veterinarian prescribed a special daily medicine and he thrived with this special attention-'Old Coyote' even survived several strokes.. . .
When we opened the new Coyote Exhibit at the Arizona Uplands we decided not to move the 'Old Coyote' and let him live the rest of his life in the exhibit he was familiar with and comfortable in. On April 27, 1999 the 'Old Coyote' had kidney failure and for the first time since coming to the Desert Museum in 1982, he was unable to walk, take his medicine, or eat. He was euthanized at the age of seventeen and all staff mourned his passing."