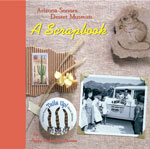 Extended Entries to the ASDM Scrapbook
Daniel E. Davis
Dan Davis became the fifth Director of the Desert Museum, January 30, 1979. Previous to that date he had completed a thirty-year career with the National Park Service, retiring from that position in 1977. In October of 1977 he became the Weekend Supervisor and consultant for Phase II of the Earth Science Center at the Desert Museum. Following the resignation of Holt Bodinson as Director of ASDM, Davis became Acting Director in June 1978 and later was named as Director.
Davis was born in Iowa in 1922. He studied geology and geography, graduating from the University of Iowa, and pursued graduate work at the University of New Mexico and the University of Montana. His career with the National Park Service included work at Casa Grande National Monument, and several years as one of five rangers at the Grand Canyon; in 1955 he became the first ranger stationed below the rim. He wrote several books about the canyon, including "Inner Canyon Hiking" and "Escape Routes." A two-time recipient of the Meritorious Service Award from the Department of the Interior, Davis completed his career as Associate Regional Director of Operations in Omaha, Nebraska, where he was responsible for the operations of 40 National Park service areas. He was considered an expert in the area of comprehensive planning for national parks and consulted in the United States and abroad to lead park studies in Libya, Israel, Egypt, Saudi Arabia, and Mexico.
During his ten years at the Museum, Davis oversaw the construction of a walk-through aviary, the Earth Science Center's Exhibit Gallery, and the Mountain Habitats. In 1982 he received the Environmental Leadership Medal commemorating the 10th anniversary of the United Nations Conference on the Human Environment. This award recognized people who made a distinguished contribution to the cause of the environment during the previous decade.
Dan Davis retired as Director of the Desert Museum in 1989. He died April 27, 1997. A memorial service for him was held in the Desert Garden at the Museum on April 30.