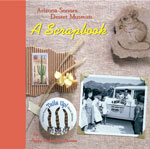 Extended Entries to the ASDM Scrapbook
Lion Babies
George L. Mountainlion III was joined at the Museum in 1969 by Georgette, and in 1971 by Tom (later George IV) and his sister Honey. In late June of 1971 Honey gave birth to two cubs, one of which died; a few days later Georgette produced four babies, all of whom lived. Both Honey and Georgette were so accustomed to, and trusting of the humans they knew well, that they allowed those individuals to enter the den they shared and gently touch or even hold their cubs. The cats showed no signs of alarm, but rather seemed almost pleased by the human attention.
In the following days Honey and Georgette shared a communal motherhood, indeed Georgette allowed Honey's single baby to attempt to nurse from her, even before her own young were born. Once there were five babies and two mothers in the den, the adult lions seemed not to differentiate between their own and their companion's babies, and all five young nursed from both mothers with no maternal objections.
George's first heirs had been produced, and we who were trusted by the mountain lion mothers to enter their den and admire their young were both proud of the mothers and humbled and honored by the trust the lions placed in us.