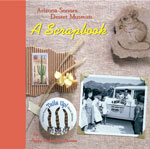 Extended Entries to the ASDM Scrapbook
Arthur Pack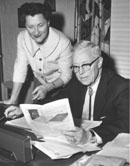 Arthur Pack, born in the East, transplanted to the West, was one of the two men instrumental in establishing the Desert Museum.
Pack was born February 20th, 1893, in Cleveland, Ohio. After attending schools in Florida and Massachusetts, he graduated in 1915 from the Harvard Graduate School of Business Administration.
Following graduation he worked as an aide in the United States Ordnance Department in Washington D. C. During World War I he was stationed in England as a first lieutenant, later a captain, in that department. There he was involved behind the scenes in pioneering efforts in using airplanes in warfare. Later he obtained his private pilot's license and frequently flew his own plane.
Arthur and his father, Charles, who was a dedicated forest conservationist, founded the American Nature Association of Washington D. C. and Arthur, as a part of his work with the Association, became editor of Nature Magazine. Charles Pack also founded the Charles Lathrop Pack Forestry Foundation.
In the 1930's Arthur Pack bought a ranch in northern New Mexico known as Ghost Ranch and wrote two books about that site and his family's experiences there: We Called It Ghost Ranch and The Ghost Ranch Story. In 1955 Arthur and his wife, Phoebe Finley Pack, whom he had married in 1936, presented the ranch to the Board of Christian Education Presbyterian Church, USA, to be used as a national retreat and education center.
In 1941 Arthur Pack began building Ghost Ranch Lodge in Tucson, and in 1946 he and his family moved there permanently, except for vacations spent at the New Mexico Ghost Ranch. In 1952 Arthur and William Carr co-founded the Arizona-Sonora Desert Museum, which, through Pack's efforts, received substantial funding from the Charles Lathrop Pack Forestry Foundation. Arthur Pack was the first president of the Museum, later was named Co-Founder and President Emeritus, and continued his interest in and assistance to the Museum for the remainder of his life. In 1959 Pack and Carr also founded the Ghost Ranch Museum, an institution similar to the Desert Museum, located near Abiquiu, New Mexico.
Arthur and Phoebe Pack were described as "quiet doers." They donated funds for the building of a much-needed hospital, located 25 miles north of Santa Fe, in Espanola, New Mexico in 1945. In 1972 they established a one million-dollar trust fund for St. Mary's Hospital in Tucson. Arthur Pack was very active as a philanthropist and as a tireless community worker in numerous organizations in Tucson, including the Tucson Chamber of Commerce, YMCA, Tucson Child Guidance Clinic, United Way, Pima Mental Health Association, House of Neighborly Service, County Parks and Recreation Commission, and as Chairman of the Board of Trustees of St. Mary's Hospital.
Among the many honors Arthur Pack received were those of Tucson's Man of the Year in 1952; the Kalish Award by the Jewish Community Council for outstanding leadership in conservation in 1968; the 1974 award of the Association of Interpretive Naturalists, in recognition of his many years of work and contributions to the field of conservation; an honorary doctor of science degree from the University of Arizona; and an honorary doctor of laws degree from the University of New Mexico.
By the time of his death on December 6th, 1975, Mr. and Mrs. Pack had contributed over $500,000 to the development of the Arizona-Sonora Desert Museum.
In a salute to Arthur Pack, Congressman Morris Udall stated, "If I could wish one blessing for each community, I would ask that each be blessed with at least one Arthur Pack."
Bill Carr described Arthur Pack's generosity, "Having been born with a silver spoon, he used it to feed others as well as himself. . .Arthur Pack was a leader in two ways. He was always ready to stand up for his views and to back them up with his philanthropy."
And in a memorial tribute to his good friend of a quarter-century, and invaluable aide in museum establishment, Bill Carr wrote, "Arthur preferred to call a spade a shovel, indicating that he thought the word spade was effete and shovel fit the bill more accurately. He was capable of arguing strenuously in support of his own philosophy about various civic ventures that had to do with the welfare of people or the land. One might say he practiced what he preached, but the truth is that he didn't preach-he just practiced."