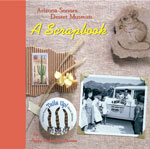 Extended Entries to the ASDM Scrapbook
The Lion Logo
Inspired by George L. Mountainlion I and all the lions that have followed in his paw prints at the Desert Museum, the mountain lion has long been the logo, the icon, the trademark of the institution.
A lion face appears on the Museum's stationery and docent patches. The lion image has graced countless publications and lion paw prints have marched across the text or in the margins of a variety of printed materials. Lions appear on one of the Museum's posters painted by Nick Wilson.
Lions have graced the Museum's bumper stickers, directional signs, billboards, and decals. George's column, Trailside Topics, weekly carried drawings of George along with his animal friends, as well as his byline, accompanying the text.
George's signature and often his picture have brightened membership applications, invitations, requests for contributions, letters of appreciation, and his signature has appeared on occasional letters to an editor when George felt that particular individual needed straight talk from a big lion. Photos of the early Georges have been published on post cards, which traveled far and wide throughout the country.
A small bronze statue of a reclining lion is a special tribute given to Museum directors upon their retirement.
And George's name, representing all the Georges, has been given to the George L. Mountainlion Club, an organization composed of past members of the Desert Museum's Board of Trustees and Advisory Council, and to the George L. Mountainlion Patio located adjacent to the Museum's main building.
Mountain lions are very special at the Arizona-Sonora Desert Museum.