Sips with Scientists: Cam Juárez of Saguaro National Park
Tuesday, January 12, 5:00 pm MSTThe current time in the MST timezone is 11:59 am
Duration: 30 minutes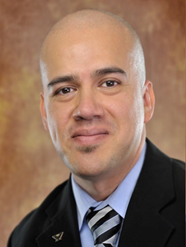 Grab a bevy and tune in to laugh and learn at a virtual and educational happy hour. Join the Desert Museum's Education Manager, Catherine Bartlett, as she interviews scientists from around the world- and not necessarily about their area of expertise! Be silly. Be surprised. BYOB.
This week we'll meet Cam (Camy) Juárez, the Community Engagement and Outreach Coordinator for Saguaro National Park.
Cam Juárez was born to migrant farm worker parents in San Luis, Arizona in 1972. Growing up with a physical disability, Cam faced many challenges in his formative years, including bullying and systemic discrimination. Despite this, he managed to graduate high school and subsequently earn a bachelor's & master's degree in Chicano Studies & Urban Planning, respectively, from the University of Arizona.
Cam started off his career with an associate's degree as a paralegal assistant. Cam then worked for three non-profit agencies and for two Pima County departments focusing on youth and community development between 1995 and 2015.
He was recruited by the National Park Service in 2015 and now serves as the Community Engagement and Outreach Director for Saguaro National Park. He also serves as a Public Information Officer and as a member of the park's leadership team.
Cam was elected and served on the Tucson Unified School District (TUSD) Governing Board from 2013 to 2017. Most recently, he was appointed by the Tucson Mayor & Council to the Tucson Metropolitan Education Commission and is on the Community Engagement Advisory Council for the Arizona-Sonora Desert Museum.
Cam and his wife have an 11-year old son, Julián, who wants to grow up to be an entomologist-robot engineer-park ranger.
Register below