BioBlitz Challenge: Desert Museum Style!
Gather your friends, family, and fellow nature nerds for a day of searching, scouting and documenting the Wild species at the Desert Museum! We will BioBlitz in a day — what surprise animals or plants can you find?
The Desert Museum is joining in the 2021 Greater Tucson Area City Nature Challenge (CNC). CNCs have been growing in major cities in the past couple years as a way to connect to the outdoors, document biodiversity, build community, and data sets.
When: May 1 (The BioBlitz is open all day! Museum Education staff will be available on the front patio and roaming grounds to answer questions from 7:30 a.m. to noon)
Who: Everyone!
Cost: Included with Museum admission

RESERVE TICKETS NOW
So How Does This Work?
Bring a phone, tablet, or camera to the Desert Museum on May 1st to help photograph Wild species. Then, upload your finds to iNaturalist.
Join the iNaturalist Projects 2021 BioBlitz the Desert Museum in a Day and City Nature Challenge 2021 Tucson
Note: When you upload a sighting to iNaturalist, it will count in both projects with no extra work on your part!
Snap photos of Wild species. The rules: stay on the paths, respect other guests, and do not disturb plants, rocks, animals, or exhibits in your search for species.
Upload your photos to iNaturalist! We do have WiFi at the Museum, or you can wait and do this later at home. Upload all observations by Wednesday, May 5.
Win Prizes! Categories include: most species, most overall observations, funniest photo, and most identifications. Can't get to the Museum? Participate by helping to ID photos! Winners will be contacted via their iNaturalist account by iNaturalist user: catherinebartlett.
Helpful Hints!
What's Wild in a zoo? Any birds, insects, reptiles, or mammals you see outside an exhibit is Wild. For example, a cactus wren in our parking lot would count! Strawberry the Bear (while adorable) would not. Many of our plants are purposefully exhibited and labeled. A wild brittlebush on to the side of the path would count. A boojum (while remarkable) would not. Remember: if it has a label, it probably isn't Wild.
Use iNaturalist (or Seek for kids) before visiting the Museum. Try it out at home and familiarize yourself with the app. While iNaturalist is fairly intuitive, the app will make a lot more sense after a trial run.
Make useful observations.

Take identifiable photos. In-focus pictures that fill the frame are much easier to identify than animals in the distance.
Take multiple photos from different angles. For plants, try to include the flower or fruit (if the season is right).

Bring binoculars or field guides. Putting a smartphone camera up to a binocular lens can yield some great pictures!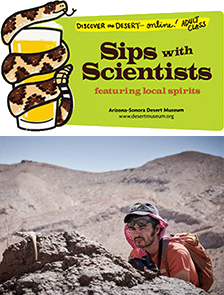 Bonus! Meet Ken-ichi Ueda, co-founder of iNaturalist in our next "Sips with Scientists" on April 13, 6:00 p.m. (MST).
Ken-ichi has been fascinated by nature for as long as he can recall. He used to horrify his mom by waltzing into the house holding snakes and salamanders to show her. Eventually, he translated that love into a degree in biology. Since then, he's worked as a GIS technician, web developer, and wildlife technician. iNaturalist grew out of the belief that he might not be alone in his desire to combine nature and the Web. iNat has rendered that belief unnecessary. In his spare time, he enjoys watching TV shows with spaceships.
Curious about your competition? Join the Facebook Event to see how many people are interested!