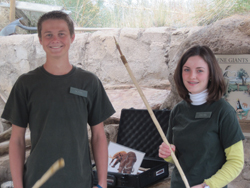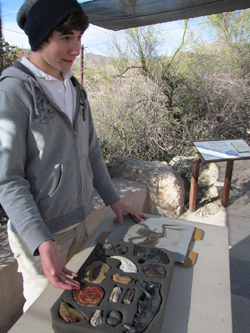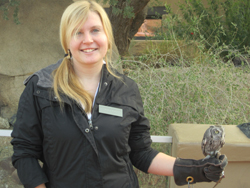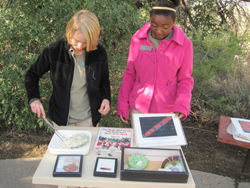 Junior Docent Program
New Recruit Adventure Day & Interviews
May 10, 2014
(Please call Amy Orchard at 520-883-3083 to register)
Applications due: April 26, 2014
Do you think the desert is a really "cool" place? Would you like to learn more about snakes, minerals or cactus and teach others what you know? If you are even just a little bit curious, then the Arizona-Sonora Desert Museum's Junior Docent program might be for you!
The Desert Museum Junior Docent program is designed for Tucson area boys and girls ages 13 to 18. Junior Docents receive training on the plants, animals and geology of the Sonoran Desert Region and how to interpret (teach) it to others. Desert Museum membership, special privileges and recognition, and the opportunity to help out with Museum events are just some of the benefits Junior Docents receive in addition to being part of a world famous museum!
What is a Junior Docent?
Junior Docents are trained volunteers, between the ages of 13 and 18, whose major responsibility is to help Museum visitors better understand and appreciate the Sonoran Desert region. Recruitment for the 2-year program begins each spring but applications are accepted year-round. Applicants must be between 13 and 16 years of age.
What Training is Involved?
Although Junior Docents continue learning throughout the two year program, initial training for incoming Junior Docents takes place in June, July and August. Museum staff and seasoned Docents provide their expertise and vast experience to impart knowledge and antidotal information about such topics as saguaros, rattlesnakes, ethnobotany, minerals and water conservation.
New for 2014!
Understanding the importance of experiencing the desert, training will now include scientific field research opportunities and hands-on projects with other departments within the museum. Summer training will include a three-day backpacking trip into Arivipa Canyon to study aquatic invertebrates, a saguaro harvest campout to gain hands-on experience in the age-old practice of collecting and processing the saguaro fruit, an overnighter at the museum and several day time trainings.
Junior Docents are expected to attend training sessions in the summer of 2014 as well as regular Junior Docent days from September 2014 to May 2016. Junior Docents are allowed 4 absences each year (June to May) which includes sick days. Please refer to the schedule for the 2014-2015 season to be sure your family can make the commitment.
What are Some Junior Docent Duties?
The main responsibility of the Junior Docent is to present interpretive kits and live animals to our Museum visitors twice a month. Other activities include on-going training in interpretive kits, field trips, campouts, behind-the-scenes tours, and live animal encounters. On occasion Junior Docents will also be asked to volunteer for special Museum functions.
Duties and responsibilities increase during a Junior Docent's second year of involvement, which include mentoring of new Junior Docents and animal handling. All Junior Docents are expected to remain in the program for two years, after which they receive recognition at a graduation ceremony.
How can You Get Involved?
A new crew of Junior Docents are selected each year in May. However, applications are accepted year-round. Selection is based upon teacher recommendations, application and an interview. For an application and teacher recommendation form call (520) 883-3083 or download the forms from this site. One application (PDF) and two teacher recommendation forms are required for each applicant. Program cost is $150.00 per year, payable to the Desert Museum upon acceptance. Payment plans and a limited number of scholarships are available (call number above for info).
New Recruit Adventure Day & Interviews: May 10, 2014 (Call Amy Orchard at 520-883-3083 to register)
Applications due: April 26, 2014
Applications and Recommendation Forms:
Application Form (PDF) | Teacher Recommendation Form
Completed application and recommendation forms may be sent to:
Arizona-Sonora Desert Museum
Attn: Junior Docent Program
2021 N. Kinney Rd.
Tucson, AZ 85743
For more info call:
Amy Orchard at (520) 883-3083