Museum Explorers
Due to public health recommendations, the Explorers Camp
has been cancelled
. If you have already registered for this year, we will be reaching out to you with further details.
Session 1: June 1-5, 2020
Session 2: June 8-12, 2020
8:30 a.m. to 3:00 p.m.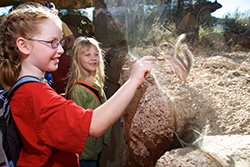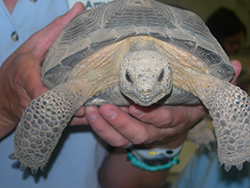 Playful Packrats
Entering Grades 1-2 in the Fall of 2020
Instructor: Robin Kropp
Are you curious about nature and want to go exploring? Campers, get ready to journey through the Sonoran Desert Region as we explore every nook and cranny of the museum. From caves underground, to deserts and grasslands, to mountain woodlands on top of sky islands, we'll discover amazing diversity in our desert region. Our adventure includes investigating how desert creatures are adapted to survive in this dry environment. Our travels will also wind us through the many relationships between plants, animals and the environment. Through up-close animal encounters, hands-on activities, museum exploration and some fabulous art projects you can help us uncover the many wonders of our desert environment. Join us for the fun!
$225 Non-members
$200 Members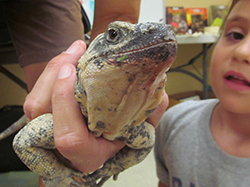 Animal Artists
Entering Grades 3-4 in the Fall of 2020
Instructor: Marie McGhee
For the child who loves art, animals and the Desert Museum! Register for this camp and they can explore the wonderful way to mix the three. From the tallest to the smallest, we will play, paint, build and learn all about our favorite desert animals! Create fun works of art inspired by the time spent with animals at the Desert Museum. All supplies are included.
$225 Non-members
$200 Members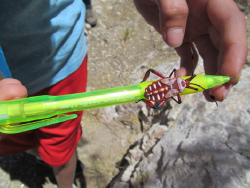 Sonoran Scientists
Entering Grades 5-6 in the Fall 2020
Instructor: Michelle C. Miner
Calling all curious kids! The natural world is full of surprises and fascinating stories. During this STEAM-focused camp, kids will investigate the world around them using tips and tools of scientists. Exciting technology including blacklights, camera traps, microscopes, and IR devices will be utilized for scientific observation, and we'll even get to meet some Desert Museum Scientists and Zookeepers along the way! Throughout the week we'll also have up close experiences with a variety of desert animal friends and make beautiful nature-inspired art. Additionally, we'll have fun learning great #scicomm techniques (perhaps through memes, music, or short TED-style talks!) since the best scientists also share their discoveries in engaging ways.
$225 Non-members
$200 Members
About the Instructors: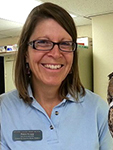 Robin Kropp has professionally shared her love of the natural world with children through adults since 1988. A Sonoran Desert native, she received her B.A. from the University of Arizona in Ecology and Evolutionary Biology, Latin American Studies, and Spanish in 1990, and completed her Masters in Education with a focus on Environmental Learning in 2003. She has been an Education Specialist at the Desert Museum since 1998 where she develops curriculum and teaches on-site and outreach programs for a variety of students. She also coordinates the Museum's Coati Kids Club programs and a variety of native foods cooking classes.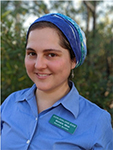 Michelle Constanza Miner is an Education Specialist at the Arizona-Sonora Desert Museum. You can expect to find her hugging rocks, laughing too loudly, making music, or gazing at native bees (cactus and mallow specialists are a favorite). She's having a blast working with animal ambassadors to share her love of the Sonoran Desert at classrooms, summer camps, and more! Previously as an Educator, Michelle has helped run the Packrat Playhouse exhibit since its grand opening in April 2018 and specializes in childhood nature education programs using music, movement, science, and art. She has also enjoyed co-teaching Earth Camp, training teens in nature interpretation, and inspiring young folks to approach life with more confidence and compassion. Michelle completed a B.A. in Environmental Studies/Ecology & Evolutionary Biology at UC Santa Cruz in 2012 and a M.S. in Entomology at UC Riverside in 2018. She has worked with USGS, USFWS, and USDA on research projects including desert tortoises, threatened & endangered marsh birds, and pollinator diversity. Michelle does not like creepy crawly things… she loves them!