Here are the third place poems from 2003. Enjoy!
3rd Place Winners:
James Boehm, 1st Grade, Armstrong Academy
Sonoran Sunset (no copy to display)
---
Dakota Leigh Frye, 2nd Grade, Miles ELC
Desert Animals Are...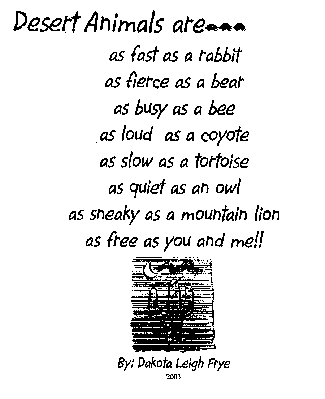 ---
Julian Armenta, 2nd Grade, Miles ELC
Desert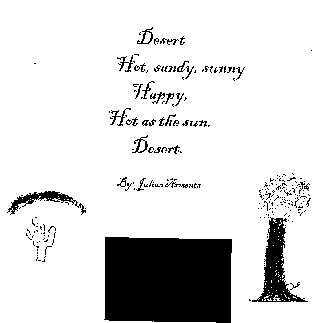 ---
Katie Singleton, 3rd Grade, Hudlow School
The Sun-Kissed Desert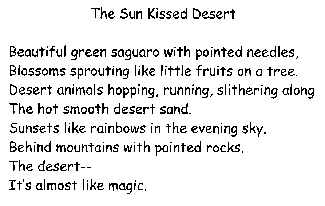 ---
Joselinne Reyes, 4th Grade, Myers-Ganoung Elementary School
The Sonoran Desert
The Sonoran Desert is
a dry place. I went there
one day. I saw the saguaros
there. They say they're the
mighty giants of the desert.
I saw the mesquites and
the palo verdes. They were
wonderful. I saw the cholla
and barell cactus.
I saw a rattle snake
With its beautiful slithering scales
sliding through the dusty dirt.
It's shiny scales
were like the rays of the
sun.
I saw three javelinas
scampering through the
beautiful dusty desert.
And this wasn't like any
old trip because this trip
will last a lifetime.

---
Joey Richards, 5th Grade, St. Cyril School
Animals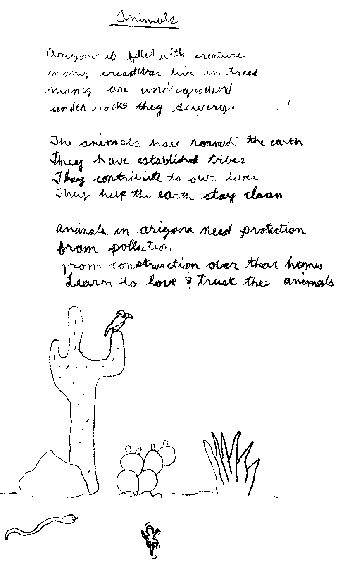 ---
Paula Moreno, 6th Grade, St. Cyril School
The Bobcat's Hunt