Information for Professional Photographers, Filmmakers and Videographers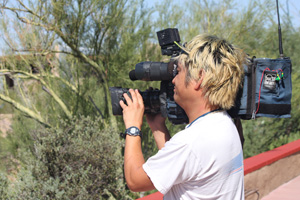 Thank you for your interest in taking photographs and/or filming at the Desert Museum. While we try to make every effort to accommodate film crews, this is a working museum and the staff's primary responsibilities are the care and welfare of the facility and its visitors. Production must be scheduled in a manner that will not interfere with normal Museum operations.
To accommodate production, we ask that a production worksheet (PDF) be completed and returned at least six weeks and no later than three weeks prior to the requested production date. Certificates of insurance naming the Desert Museum as secondarily insured are required with details noted on the worksheet.
Once the Desert Museum has received the worksheet, the production needs will be assessed and fees determined. Early- and after-hours filming necessitates higher fees as does special handling of animals. Desert Museum staff and curators are consulted on the projects and they possess the most experience in determining what will be required to obtain the necessary shots.
Personal photography and filming on Desert Museum grounds is always permitted for non-commercial use. Written permission must be obtained from the Desert Museum to publish any images taken on Museum grounds.
Please take a few minutes to familiarize yourself with the worksheet prior to sending your inquiry.
To submit your inquiry, please fill out the contact form below:
Please Note: The Desert Museum is in the flight path of three airports; overhead noise can cause delays. Please plan for this if your project involves sound.