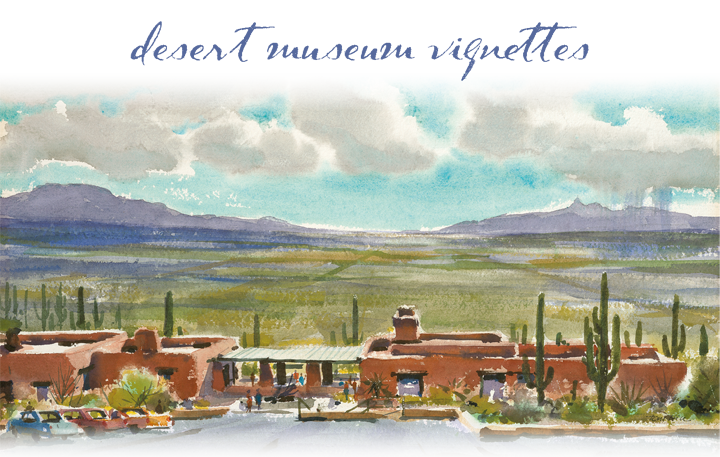 William 'Bill' H. Carr
The desert spoke. Bill Carr listened. We all continue to benefit.
William 'Bill' H. Carr, co-founder of the Arizona-Sonora Desert Museum with Arthur Pack, arrived in Tucson in 1944 with - as he later described it - 'four suitcases and $400'.
Born in 1902, Bill Carr had been employed by the Education Department of the American Museum of Natural History in New York. He went on to establish Bear Mountain Trailside Museums in Highland Falls, NY for the American Museum. Bill was particularly noted for his innovation in developing outdoor natural history interpretation. Ill health brought him to Tucson.
Bill had long been a prolific author of natural history articles and he continued to write after moving to Tucson. He also established a small bookshop on Santa Rita Avenue dealing in rare natural history, science, and southwestern history books, and became active in local environmental causes. Carr later wrote that having arrived in Tucson, 'From the first I was enchanted by the desert, yet struck by what seemed a gross lack of knowledge about it among the local populace as well as on the national level.' He saw the need for an institution similar to Bear Mountain, but did not have the financial means to implement his ideas. 'Here was a magnificent area of desert, sky and mountain to understand, appreciate and interpret for all who came this way.'
A fortuitous meeting of Carr and Arthur Pack in 1951, and Pima County's quandary regarding use of the Mountain House property in Tucson Mountain Park, opened the way to the founding of the Arizona-Sonora Desert Museum driven by the initiative of Carr and Pack. Thus was the next phase of Bill Carr's career in outdoor education launched.
With Arthur Pack supplying the funding and Bill Carr the vision, the Arizona-Sonora Desert Trailside Museum opened on Labor Day in 1952. 'Opening Day, Labor Day of 1952, and it was never more aptly named. We had worked, sweated and suffered, yet we knew that this was not an end but a beginning. At least, it would be if there were enough interest shown in our efforts. --- We had prepared a parking space which we felt would be adequate for the number of autos even an enthusiastic turnout would produce. But by mid-morning this space was filled, and a line of cars was beginning to back up along the road outside the entrance. Grins began to be exchanged. --- We could only estimate, but our best guesses were that instead of the several hundred visitors we expected at our most optimistic, at least two or three thousand showed up!'
And with the paving of Kinney Road in 1953 and Gates Pass Road in the summer 1961, access to the museum became easier and attendance grew. The Desert Museum was renamed the Arizona-Sonora Desert Museum – removing 'Trailside' - to more accurately reflect the conservation commitment of the museum.
The Desert Museum continued to expand. Carr served as Director until September 1954, then as consultant on special projects including the Tunnel and Water Street. The Tunnel exhibit was initiated by Bill Carr and was one of his fondest achievements. Originally opened in 1957, the Tunnel was a popular exhibit until 1978 when wear-and-tear made its closure necessary.
The long-before its time Water Street was also a vision of Bill Carr's. This exhibit sought to 'help visitors to understand one of the most vital of all our natural resources – water.' As with many of the Desert Museum projects, Bill Carr provided the expertise and Arthur Pack provided the funding through the Charles Lathrop Pack Foundation.
Bill Carr and Arthur Pack teamed a second time and established the Ghost Ranch Museum, patterned along lines similar to the Desert Museum, near Abiquiu, New Mexico. It opened in 1959. For this museum Carr also bore the title of co-founder and Director Emeritus.
Bill Carr died in 1985. In 1989, the renovated Tunnel was renamed 'Life Underground' and dedicated to the memory of William H. Carr. Education of all those whom the Museum touched was always uppermost in Bill Carr's mind and in 1980 he was honored by establishment at the Desert Museum of the William H. Carr Interpretive Naturalist Position.
William 'Bill' H. Woodin, who helped Bill Carr establish the Museum, became Director after Carr, and worked with Bill over many years, described Bill Carr as 'a man of total dedication and boundless imagination and truly a pioneer in the concept of outdoor education.'
Sources: Pebbles in Your Shoes; Arizona-Sonora Desert Museum: A Scrapbook, ASDM Archives