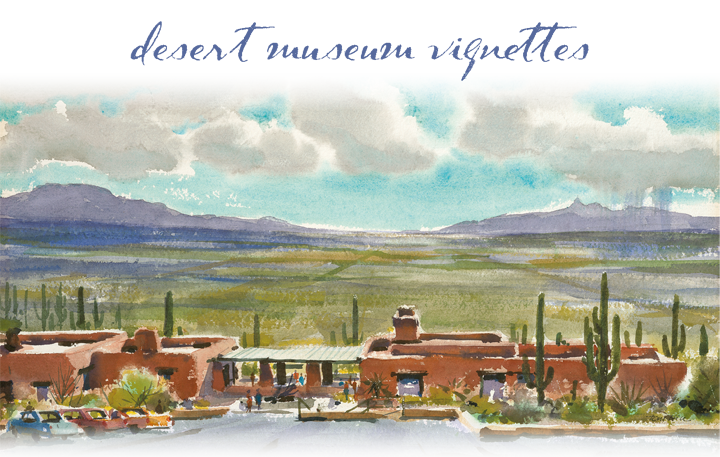 Hal & Natie Gras
'By combating fear and ignorance with the truth, presented in as entertaining a fashion as possible, the Desert Ark animals, through their routines, strive to promote a basic respect for all living things including human beings.' —Hal Gras
'If eight-year-olds could vote, Hal Gras would be a shoo-in for Mayor of Tucson.' —
Tucson Citizen
Hal Gras was the Desert Museum's Noah. He was hired in 1953 to produce and host the museum's weekly television show, Arizona Desert Trails. But he is most famous for driving the Desert Museum's collection of live animals to schools and organizations in a station wagon known as the Desert Ark. The Desert Ark animals were filled with personality. Hal named them after celebrities of the time or by making a play on their natural traits. Many a Tucson schoolchild touched their first snake at Hal's school presentations.
Some of Hal's memorable animal friends included javelinas - Olivia de Javelina, Gregory Peccary, Francis Bacon, plus Rosemary Cooney – the raccoon, Julius Squeezer - the gopher snake, and Quilly Mays - an unusually mild mannered porcupine who starred in Desert Ark programs for all of the sixteen years of his life. Quilly was featured in more than 300 presentations including two appearances at the White House. There was Woodrow Dent, a pack rat, who helped teach fire safety, and also wore a mortar board to support Gras' admonition to stay in school for a good education. And also famous was La Vaga, a beautiful ringtail. She became one of Gras' favorite animals to place on celebrities' and children's heads á la Davy Crockett's hat.
As Hal described the Desert Ark, 'The program is not natural history. Rather, it is the use of animals to illustrate how to get along, become a better person, have respect for conservation rather than destruction, to overcome fear and ignorance. These are the things the children learn from the Desert Ark's wild creatures.'
Desert Ark programs and the Arizona Desert Trails, which originated as a radio program and became a Desert Museum television program for the Tucson CBS affiliate, were well regarded by the Tucson community. ' Hal was friendly, entertaining, dedicated, hardworking, and a showman. He captured children's attention and admiration, and adults soon also found themselves drawn in and enjoying Hal's presentation as much as the children.' Peggy Larson
Hal Gras was born April 3, 1919, in Clifton, N.J. and served in Europe during World War II. He married Renata 'Natie' Spilcker in 1941. After the war, Hal and Natie relocated to El Paso, Texas and there he graduated from college with a degree in broadcasting. Hal and Natie moved to Tucson in 1950 where he worked for KVOA radio and television until going to work for the Desert Museum.
Natie Gras provided loving care for the Desert Ark animals living at their Tucson home which soon became known as the museum's in-town nursery where Natie received, raised, and rehabilitated orphaned or injured animals from mountain lions and jaguars to ground squirrels, snakes, and hummingbirds. It made for an interesting household. The Gras' daughter, Jeanne, told a newspaper reporter that when she was a small girl: 'We had a mountain lion in a playpen in the living room. I didn't know this wasn't normal.' More than 200 animals a year were provided loving care in the nursery under Natie's charge. A reporter once wrote that there were three zoos in Tucson: the Desert Museum, Reid Park Zoo and the Gras' back yard.
By 1980, the Gras' estimated they had cared for more than 4000 needy animals in the nursery. With his retirement from the Desert Museum in 1985, Hal had hosted 1,551 Desert Trails programs and presented 5,232 Desert Ark programs.
As Bill Carr stated, 'Hal remains certainly the most effective publicity generator for the Museum. Of all the personnel there, he has served the longest and the most faithfully. Rarely have an institution and a man become so closely identified, to each other's benefit and to the benefit of the natural history message.'
Today, the Desert Museum continues the Hal Gras tradition with a variety of live animal presentations including Live & (sort of) On The Loose. The Desert Ark, under the direction of Desert Museum Education Specialists continues to visit schools and institutions.
Sources: Pebbles in Your Shoes, Arizona-Sonora Desert Museum: A Scrapbook, ASDM Oral History