Sapindaceae (soapberry family)
The soapberry family has over 1300 species worldwide, many of which are toxic. The only edible product that is likely to be familiar is lychee; other species are lumber trees or oilseed crops.
Hopbush
(Dodonaea viscosa)
female plant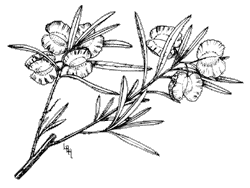 Dodonaea viscosa [D. angustifolia and D. viscosa var. angustifolia]
English name: hopbush
Spanish names: jarilla (little jar), tarachi, ocotillo, alamillo (little poplar), guayabillo (little guava), granadina, varal, munditos, chapuliztle
Description
Hopbush is a multi-trunked, evergreen shrub typically 5 to 7 feet (1.5-2.1 m) tall, occasionally to 10 feet (3 m), with bright green foliage. Inconspicuous clusters of small, greenish flowers are followed by showy winged fruits resembling hops on female plants. Flowering and fruiting are variable but mostly in summer and fall.
Range
In the Sonoran Desert region, hopbush occurs from central Arizona to Sonora and Baja California, from 2000 to 5000 feet (600-1500 m) elevation, always at the upper margin of the desert and often in acidic soils. The same species occurs in warm regions worldwide, even Australia. Exceedingly few plant species have such a wide distribution; tanglehead grass (Heteropogon contortus) is another.
Notes
The fruit has been used as a substitute for hops in the brewing of beer. True hops, Humulus lupulus, is in an unrelated family. The local form of hopbush has narrow leaves. In higher and wetter areas of Sonora and elsewhere the leaves are much wider, up to an inch (2.5 cm) across. Some botanists distinguish the wide-leafed form as a different species. Though hopbush is not succulent it shows evidence of cam photosynthesis. The Seri use it as an external remedy for aches. It is used extensively in desert landscapes because there are very few fast-growing, evergreen, native shrubs.