*Limited Edition* Enhanced Adoption Package
$65.00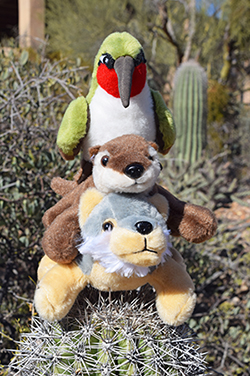 Adoption certificate
Subscription to Desert Dispatch e-newsletter
3 4"x6" glossy Mexican Gray Wolf, River Otter, and Hummingbird photographs
Educational materials
"Proud Parent" recognition on our web site
Exclusive access to your very own Mexican Gray Wolf, River Otter, and Hummingbird webpages
Plush Mexican Gray Wolf, River Otter, and Hummingbird Finger Puppets
"Proud Parent" canvas tote bag
*Limited quantities available
Your donation is a one time fee that covers your adoption for a year.
Your package will be sent within 4-6 days of purchase date. To ensure delivery before Christmas, please place your adoption order before December 17.
If wanting to ship internationally, please contact Lauren Belcher at lbelcher@desertmuseum.org or +1 520-883-3070 to figure out if we are able to accommodate you.
Questions?
Email Lauren Belcher
Media & Marketing Specialist
lbelcher@desertmuseum.org
or call 520-883-3070