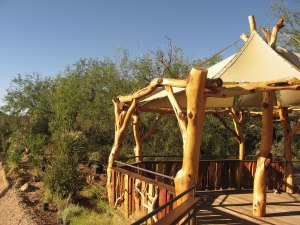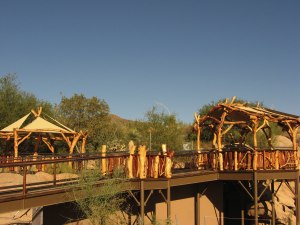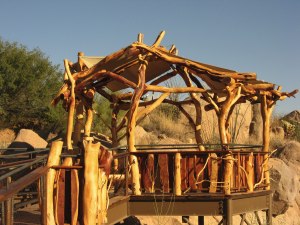 Forever Young Treehouse
Ari Yehiel Blattstein spent a lot of time at the Arizona-Sonora Desert Museum. Given his interest in conservation, it's only fitting that the Forever Young Treehouse be dedicated in his memory. The treehouse was dedicted during a ceremony Thursday, October 30, 2008, at the Desert Museum's Warden Oasis Theater.
Upon first glimpse visitors will see this is not an ordinary treehouse. It is built for people of all ages and disabilities, and is equipped with wheel chair accessible ramps. The Desert Museum is the first site in Arizona to have a Forever Young Treehouse and joins 13 other states to have this memorable and fun experience.
The Desert Museum has always catered to families, but the treehouse will now offer a dedicated play area for kids of all ages and abilities, blending recreation and learning with a spectacular view of the grounds and surrounding countryside.
Dr. Abraham and Dr. Deborah Blattstein founded the Desert Museum's Coati Kids Club in 1994 in memory of their young son Ari, and some of these funds helped build the treehouse.
Tucson Electric Power also contributed to the project, dedicating the donation in honor of John and Barbara Carter, retired members of the TEP Board of Directors. The Desert Museum also secured a grant from Forever Young Treehouses. Most of the labor was provided by Job Corps.