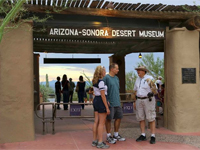 Teacher Appreciation Night
August 22, 2015
In a night dedicated to educators, Desert Museum staff and other community partners will showcase 2015-16 school programs. Registered teachers* will receive free admission and 10% off in the Gift Shops.
Guests are welcome at all events.
Guest admission: $15.50 adults (Arizona or Sonora residents with ID), $6.00 kids (ages 4-12). Kids 3 and under are free.
Museum members: free
Program:
5:00-6:00 Registration and Check-in on Front Patio

5:30-8:30 p.m. Community Partner Education Showcase in the Baldwin Education Building

5:00-10:00 p.m. Enjoy Summer Saturday Evening at the Museum, featuring:

Creatures of the Night:

© 2007 Paul and Joyce Berquist

The desert is the place to be for lively night-life! As desert dwellers, we understand why you might want to be active at night, and stay calm and cool during the day! From bats to kangaroo rats, meet some creatures that wake up once the sun has set. Find out how these animals get around and find food in the dark of night.

Science Rocks:

Hands-on Science demonstrations by the Museum's Junior Docents, including activities from our new education classes.

In the Ironwood Art Gallery:

Two critically Endangered species endemic to the Sea of Cortez: the Vaquita,

Phocoena sinus

, in a school of Totoaba,

Totoaba macdonaldiNet Loss

, © Rachel Ivanyi 2014

Vanishing Circles — a selection of timeless works depicting disappearing wildlife of the Sonoran Desert. Featuring the newest acquisitions of the Desert Museum's permanent collection.

On the Museum Grounds:

Nocturnal animals, night-blooming plants, "Nature at Night" demonstrations and activities.
Special Offers:
10% Discount in Gift Shops
Registration Form
*All teachers are welcome, however free admission and special offers are limited to preK-12 teachers who have registered.