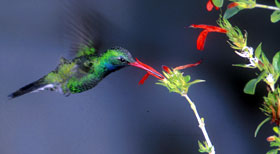 Join us for Easter Breakfast
April 12, 2009
8:00 a.m. - 10:00 a.m.
Breakfast Tickets
(Available for purchase at the Ironwood Terraces Restaurant)
$12 adults; $8 children 12 & under - does not include museum admission
Your family and friends will have a delightful day in the desert spending Easter at the Arizona-Sonora Desert Museum. Fuel up for your day of discovery with a delicious buffet breakfast. Children of all ages can partake in a scavenger hunt while special presentations and demonstrations on grounds will enchant and entertain.
ASDM EASTER BREAKFAST INCLUDES:
Fresh Seasonal Fruit
Tortillas and Salsa
Scrambled Eggs
Chorizo and Eggs with Cheese
Smoked Bacon
Pancakes with Maple Syrup
Breakfast Potatoes
Shade-grown Coffee
Assorted Juices