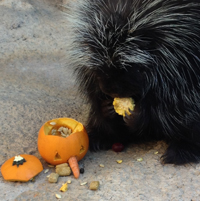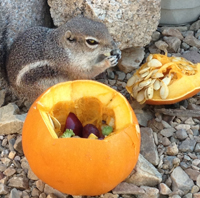 Saturday October 25 & Sunday October 26
10:00 a.m. - 4:00 p.m.
Free with Museum admission
Kids 12 and under in a Sonoran Desert animal, plant, or mineral costume will receive free admission!

Learn about the not-so-spooky Halloween creatures that call the Sonoran Desert home at the first-ever Creature Features at the Boo!seum. Bats, owls, snakes, tarantulas, and bugs take center stage in this fun and educational weekend. Visit activity stations around grounds, each with a fun activity like meeting a snake, making enrichment toys for the animals, or creating an art project, then unscramble the clues you receive to get a treat! Docents will showcase Halloweeny animals, and you may even get a chance to meet the Museum's newest Barn Owls!
Activities include:
Boo!seum treasure hunt: visit all the stations, then unscramble the clues to receive a treat!
Pumpkin-themed enrichment for Museum animals
Halloween animals at docent and junior docent stations
Raptor Free Flight (presentations at 10:00 a.m. and 2:00 p.m.): see owls, ravens, and more!
Reptile and Invertebrates Hall: Check out the decorated insect exhibits!