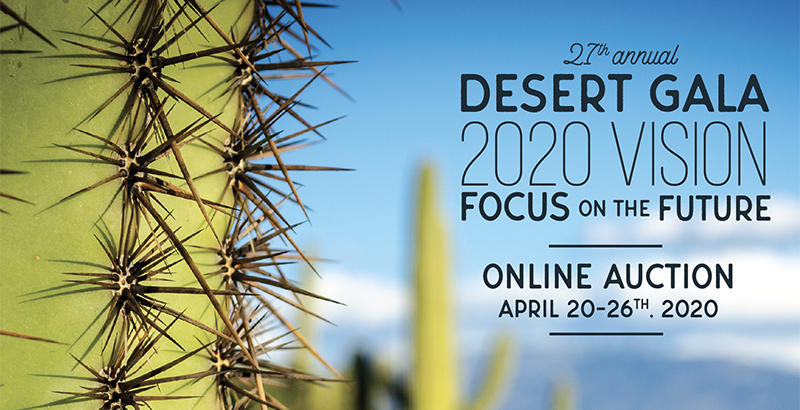 Dear 2020 Desert Gala supporters and friends:
It is with heavy heart that Bret and I inform you that the 27th Annual Desert Gala will not be happening as scheduled. We will reassess at end of March as public health organizations and governing authorities recommend protocol, and we work through the COVID-19 pandemic.
Several ideas have been proposed such as postponing, or attempting a virtual online Gala auction, or having a modified event held later in the year. We continue to sell raffle tickets for the Mark Rossi Bronze Jackrabbit, which we will still draw for a winner on Sunday April 26th! The good news is that with the temporary cancellation of Gala, it gives us time to work through details and technology.
In the meantime, Bret and I and the Desert Museum are so thankful and appreciative of your understanding and continued support.
Please stay tuned, and we will keep you apprised as decisions are made. If you have already purchased tickets, tables, and sponsorships, we will be reaching out to you directly, in the near future!
With Deep Appreciation,
Susan Preimesberger and Bret Muter
2020 Desert Gala Co-Chairs
---
This year we feature 2020 Vision and a Focus on the Future! Set your sights on the extraordinary plant and animal life, conservation and sustainability activities, and inspiring the new generation of conservation leaders. Learn more about the Desert Museum's vision for the future, and how you can do your part to ensure that future is bright.
2020 Vision: Focusing on The Future of…
Wildlife

Learn about Sonoran Desert wildlife, some of the threats they face, and the opportunities we have to ensure their survival. Also focusing on endangered species and the Desert Museum's work with repopulation and animal husbandry. We want to promote bright futures for our living collection by focusing on animal enrichment.

Sonoran Desert

Focus on climate change, botany and invasive species, natural disasters (fire), sustainability, water harvesting, plastic reduction practices. Looking to the future of healthy Sonoran Desert ecosystems.

Conservation Leaders

Learn how the Desert Museum is fostering future generations of Sonoran Desert stewards and conservation leaders. Youth education programs, school outreach, junior docents, earth conservation internships, and more!
Raffle tickets to win a handcrafted bronze Sonoran jackrabbit sculpture by Mark Rossi are $25 per ticket or 5 tickets for $100.
The Arizona-Sonora Desert Museum is a non-profit institution fully dedicated to conservation and research of the Sonoran Desert region. All proceeds from the Desert Gala support our annual fund which includes daily operations, programs, and conservation efforts of the Desert Museum.