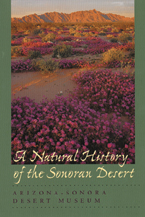 Buy direct from ASDM
A Natural History of the Sonoran Desert
Edited by Steven J. Phillips &
Patricia Wentworth Comus
January 2000; 650 pages; 32 full-color plates, 450 pen-and-ink illustrations; Dimensions 1.75 x 9.75 x 6.5 inches; Published in collaboration with The University of California Press
Awards

- Southwest Book of the Year (2000)
- 2000 Western Book Design Award
- Benjamin Franklin Award
- BRLA Southwest Book Award
"Once in a generation, a guide to understanding a major North American landscape comes along. This book is such a touchstone . . . sure to become a classic." - Stephen Trimble, author of
The Sagebrush Ocean: A Natural History of the Great Basin
"Definitive and delightful - a fabulous compendium of facts and experiences written by the most knowledgeable scholars in the field. This encyclopedic guide will make desert rats out of those who aren't already." - Ann H. Zwinger, author of
Downcanyon and Run, River, Run.
"This fine book offers one-stop shopping for authoritative answers to all your questions about a most wonderful place, the Sonoran Desert. Bees, birds, beetles, biodiversity, all right here in one place in accessible prose. Who can ask for more than that?" - John Alcock, author of
Sonoran Desert Spring
and
In a Desert Garden
.
Reviews
Sunset Magazine

"An indispensable guide for any desert visitor. . . . It offers a complete look at Sonoran Desert ecology, with details on individual species and essays that bring the desert alive."
Outside Magazine
"The award-winning text includes a calendar of natrual events highlighting animal migrations, full moons, and the Sonoran Desert's awesome spring flower show."
Environmental Practice
"A Natural History of the Sonoran Desert is a monumental work, accessible to amateurs and professionals alike; it is a must for anyone planning to visit the deserts of southwestern United States."
The Journal of Arizona History
"If I am exiled to a desert isle, I now have that proverbial one book to take along: A Natural History of the Sonoran Desert. . . . It's all here. It's like sitting on the patio with the best experts and having a private tutorial."
The Desert Sun
"Never before has a book appeared that so deserved a place on the bookshelf of every desert aficionado. . . . This book is destined to become the bible of Sonoran Desert nature literature."
New Mexico magazine
"This compendium [is] destined to become the mandatory reference for the Sonoran Desert for yeart to come."
The Americus Journal
". . . immaculately produced. . . . Put together by the museum's exceptional academic and curatorial staff, Natural History is a storybook, a field guide, a lay geology, paleontology, and human ecology textbook, and a handy encyclopedia - and it reads as enjoyable as fiction."
Audubon Naturalist News
". . . an authoritative introduction to the Sonoran Desert. . . . remarkably thorough . . . the one book on the Sonoran Desert I'd recommend to both novice and experienced naturalists."
Choice
, G. Stevens, University of New Mexico
"This book is the next best thing to going there. . . . Thought the emphasis is on the well-known and often-seen organisms of the region, the depth of coverage of those organisms is remarkable for its completeness."
Rocky Mountain News
"Everything the traveler, birdwatcher, hiker, student, desert-dweller and desert-lover will ever need to know about this region . . . is painstakingly presented in clear prose, maps and pictures."
The Sonoran Quarterly
"This book is a long, long, love letter. . . . [It] tells you just about all you can think to ask about this lush and most beautiful of America's four deserts."
Geotimes
"It is heartening to read a no-nonsense and comprehensive description of the natural history of the Sonoran Desert. . . . There is little missing in this book and much to recommend it."
Taxon
"Exquisitly produced, richly illustrated . . . definitive account of this hot desert."
More Reviews
Back to Main Books Page