Desert Life / Vida Desértica:
A Vocabulary / Vocabulario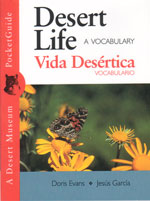 Order here
If applicable, enter your membership number or other discount code here, and click "Apply":
Not a member? Join now
Doris Evans and Jesús Manuel García
$4.95
$4.46 Member Price
1998
ISBN: 1-886679-07-x
64 pages
Folds to 3.25 x 6 inches
Description
Here is a handy bilingual vocabulary intended for students, teachers, writers, naturalists, and anyone else who needs quick access to Spanish words that describe the natural history of the Sonoran Desert region. Its small size (3" by 5") makes it a "natural" for a pocket, daypack, or glove box.
Este es un libro de referencia bilingüe para estudiantes, professores, científicos, escritores y cualquiera que tenga interés en los términos que describen la historia natural de Desierto Sonorense. Este libra fue producido por el Museo del Desierto Arizona Sonora, uno de los líderes de exhibiciones e interpretaciones de la historia natural norteamericana.