Correctamundo: Prickly Pete's Guide to Desert Facts & Cactifracts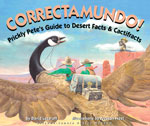 Order here
At this time, online book sales through the Desert Museum's web site have been temporarily disabled. We encourage you to visit us in person and browse our extensive book collection at our Gift Shops.
David Lazaroff
Illustrated by Preston Neel
$9.95 New Lower Price $4.95
2001
ISBN: 1-886679-16-9
Softcover, 32 pages, full-color illustrations

Description

Southwest Book of the Year (2001) "Best Picks for Kids"
Prickly Pete the packrat takes young readers into the desert to get some answers: Can desert tortoises climb out of their shells? Do Gila monsters bite and not let go? Are barrel cactuses filled with water you can drink? Are javelinas really wild desert pigs? And Prickly Pete's favorite: If you leave your watch outside at night, will a packrat take it and leave some cactus in its place?
Beautifully illustrated, this delightful full-color children's picture book shows that desert facts often are much more amazing than the myths (cactifracts) we've all heard.
Reviews
School Library Journal
"The conversational text, in concert with its brightly colored, full-page illustrations, will capture the attention of readers with its playful blend of information and silliness and, along the way, dispel fallacies about the desert."
Tucson Citizen
"Large, colorful, humorous illustrations with a personalized rate guide make this tour of desert myths and facts a most entertaining and worthwhile means of learning about the desert."
Code Words
If you already have a copy of Correctamundo, look near the back of your book to find the secret code words to learn more from Prickly Pete. He's got more to say about each of his favorite plants and animals. Plus you'll find links to even more cool desert stuff in the Desert Musem's webpages.
Enter a Correctamundo code word here: