Víctor, el zopilote renuente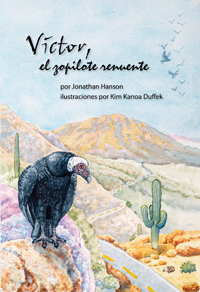 Order here
At this time, online book sales through the Desert Museum's web site have been temporarily disabled. We encourage you to visit us in person and browse our extensive book collection at our Gift Shops.
By Jonathan Hanson
Illustrated by Kim Kanoa Duffek
$16.95 New Lower Price $12.95
2012
ISBN: 978-1-886679-46-7
Hardcover: 36 pages, fully illustrated
Children ages 8-12
8 x 11.75 inches
Description
¿Quién no se ha sentido incómodo en su propia piel en algún momento de la vida? ¿Quién no se ha preguntado acerca de su propio valor, o deseado ser alguien diferente? Víctor cuenta las ilusiones inocentes e imposibles y las aventuras de un joven zopilote (o buitre) que, a través de sus experiencias y el apoyo de su familia y su comunidad, encuentra su propia autoestima. Aunque fue escrito para lectores juveniles (de 8 a 12 años), tanto los jóvenes como los adultos encontrarán humorística, emotiva y significativa esta historia deliciosamente ilustrada. En el camino, se aprenderá algunas de las características únicas no sólo de los zopilotes, sino también de otras aves de presa comunes en el Desierto Sonorense. ¡Y esto es sólo el cuento! Para los lectores jóvenes, así como para los maestros y los padres, el libro incluye descripciones breves de historia natural de los animales y las plantas que aparecen en el cuento de Víctor. ¡Regáleles a sus jóvenes naturalistas más queridos este libro Víctor el zopilote renuente o Victor, the Reluctant Vulture del Museo del Desierto Arizona-Sonora.
Víctor el zopilote renuente fue escrito por Jonathan Hanson, reconocido naturalista y escritor, e ilustrado por Kim Kanoa Duffek, artista de gran talento que también ilustró El sahuarito o The Little Saguaro, ganador del premio IPPY. La editorial del Museo del Desierto ha publicado Víctor en dos ediciones, una en español y otra en inglés. Ambas ediciones se pueden adquirir en la página web www.desertmuseum.org/books, en Amazon, y en la mayoría de sus librerías favoritas.
Acerca del autor
Jonathan Hanson y su esposa, Roseann, han escrito en colaboración varios libros de historia natural, incluyendo el Almanaque de la historia natural del sur de Arizona y 50 reptiles y anfibios comunes del suroeste. (Southern Arizona Nature Almanac and 50 Common Reptiles and Amphibians of the Southwest). Viven en una casa pequeña, con energía solar y eólica, en medio del Desierto Sonorense. Entre sus vecinos hay coyotes, venados, pumas, zorros, muchos pájaros y por supuesto, zopilotes. Jonathan se crió explorando el Desierto Sonorense en las afueras de Tucson, Arizona, y luego ha explorado otros desiertos desde el Namib hasta el Sahara. Una vez, él y su amigo Bruce se hicieron los muertos para motivar a un grupo de zopilotes que aterrizaran cerca de ellos, pero sólo lograron asustar a un automovilista cuando los vio tendidos al lado del camino.
Acerca de la artista
Kim Duffek se interesó en el arte y la naturaleza desde muy temprana edad. De niña, al regresar a casa después de pasar el día jugando en las praderas del medio oeste en los EEUU, donde se creció, su madre le ponía un pincel en la mano. De adulta, Kim obtuvo licenciaturas en ecología de fauna silvestre y también en artes plásticas. Su pasión por el arte y la naturaleza continúa. Actualmente trabaja en el departamento de botánica del Museo del Desierto Arizona-Sonora, y también se dedica a pintar vida silvestre. Además, es socia de un club musical de baile canino que ofrece presentaciones al públic.