Wild Foods of the Sonoran Desert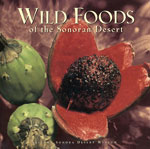 Order here
At this time, online book sales through the Desert Museum's web site have been temporarily disabled. We encourage you to visit us in person and browse our extensive book collection at our Gift Shops.
Kevin Dahl
$4.95
$4.46 Member Price
1995
ISBN: 1886679037
Paperback: 24 pages, full color
Dimensions: 8 x 8 inches
Description
Wild Foods of the Sonoran Desert explores the rich diversity of native foods found in the hot, often inhospitable desert lands of southern Arizona: sweet fruit from cacti; cultivated crops such as beans, squash, corn and sunflower seeds; wild greens; chiles; mesquite pods; desert berries. Prehistoric to modern-day Native American gathering and farming methods are discussed, as is the important role desert plant foods have played, and continue to play, in the health and well-being of desert inhabitants. The booklet offers suggestions for readers interested in gathering or growing their own native foods.
About the Author
Kevin Dahl served for many years as the executive director of Native Seeds/SEARCH, an organization dedicated to conserving native plants and promoting the use of traditional foods.
Reviews
Wild Garden
"A lushly informative and colorful book that identifies and provides background about many of the more important and easily accessible dryland foods. Highly recommended."
Working Moms and Dads Magazine
"... a perfect answer guide to the many questions about the native foods of the Southwest."
AHA Quarterly (American Herb Association)
"This booklet does a beautiful job illustrating and describing the use of Sonoran plants by indigenous peoples."
Arizona Highways
"Wonderfully informative ..."