Desert Dogs: Coyotes, Foxes & Wolves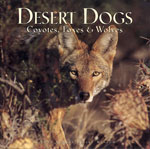 Order here
At this time, online book sales through the Desert Museum's web site have been temporarily disabled. We encourage you to visit us in person and browse our extensive book collection at our Gift Shops.
Jonathan and Roseann Beggy Hanson
$4.95
$4.46 Member Price
1996
ISBN: 1886679053
Paperback: 24 pages
Dimensions: 8 x 8 inches
Description
Desert Dogs adds dimension to sketchy and often misunderstood portrayals of four species of wild dogs that inhabit the deserts of the Southwest: the kit fox, the coyote, the gray fox, and the endangered Mexican wolf. Authors and naturalists, Jonathan and Roseann Hanson counter myths about wild dogs — particularly their unmerited reputations as natural stock killers — by replacing fictional images with a closer and sometimes lighthearted look at the sophisticated skills and social systems of the animals: from the structure and purpose of pack formation and howling patterns to the inspiring ability of coyotes, foxes, and wolves to co-exist without depleting each other's resources.
Illustrated with 24 full-color photographs, Desert Dogs is an excellent resource for readers unfamiliar with desert life and anyone who seeks a better understanding of the canines that inhabit our neighboring desert, urban alleyways, and suburban backyards.
Reviews
Arizona Daily Star
"One of the most engaging and useful animal books in a long time."