Raptor Free Flight!

The most extraordinary birds of prey exhibition in the United States!
October 19, 2013 through April 20, 2014 — Shows daily at 10:00 a.m. and 2:00 p.m.
Why this presentation is so impressive …
The birds fly so close you can feel the brush of feathers as they whiz by!
The birds fly completely untethered, without any jesses (leg straps) and most often without leg rings.
Presentations occur in the open desert, not in an amphitheater!
It features the only raptor species in the world that hunt as a family using strategy, like wolves!
Only birds native to the Sonoran Desert region are flown in the demonstrations.
Different birds fly in each show (10 a.m. and 2 p.m.) so each show is unique.
Watch as these amazing aerialists soar and swoop in their native desert habitat while a narrator describes their attributes, habitats and behaviors.
Bring your cameras and get ready for some supercharged action!
See a selection of birds flying from the following species currently in the Museum's collection:
Peregrine falcons • Barn Owls • Red-tailed Hawks • Ferruginous Hawks
Great Horned Owls • Gray Hawks • Prairie Falcons • Chihuahuan Ravens • Harris's Hawks.
In the wild, Harris's Hawks fly in family groups of three to seven birds. Watch as they ascend and hunt together! Family dynamics change throughout the season and you might just witness the female assert her dominance by ousting the smaller males off the tops of the saguaros!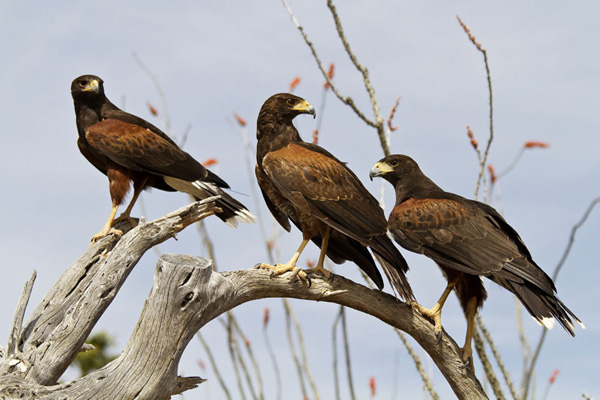 © Walt Thomas
Arizona is one of the only states where Harris's Hawks can be found in the wild.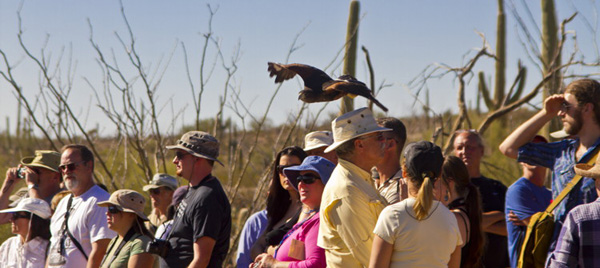 © Kenny Don
Fun Barn Owl fact: Gets its name from the fact that in addition to residing in caves and tree holes during the day, it will also use man-made structures like barns, sheds, and mine shafts.
See more Fun Facts here!