ASDM Press - Books
Support ASDM by purchasing books directly from us
Browse our extensive selection of ASDM Press titles about the desert, its plants, its geologic features, and its mysteries!
Our 2014 Holiday Gift Guide is filled with suggestions for everyone on your list!
Free domestic shipping for orders of $25 or more.
The ASDM Press. the publishing division of the Desert Museum, publishes an assortment of natural history, wildlife, plants, children's, and guide books featuring the Sonoran Desert Region.

"Dreaming Down the Rain" Broadside
The Arizona-Sonora Desert Museum Press has published its first-ever poetry broadside in honor of the Museum naming its its first-ever Poet-in-Residence, Eric Magrane. The poem celebrates the welcome and nourishing monsoons of our desert home and our connection to the natural world around us.
Two Terrific Titles from the Arizona-Sonora Desert Museum Press Are Southwest Books of the Year!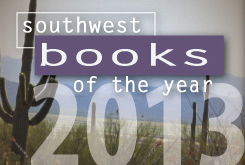 We are pleased to announce that A Natural History of the Santa Catalinas, Arizona by Richard C. Brusca and Wendy Moore, and Victor, the Reluctant Vulture by Jonathan Hanson, illustrated by Kim Kanoa Duffek, were chosen as Southwest Books of the Year 2013. A Natural History was designated a Top Pick (which means more than one reviewer identified it as Best Reading), and Victor was recognized in the Children's Book category.
It's a great honor to be selected from the many deserving titles submitted each year, and we congratulate the authors and production team that created these wonderful volumes which extend the educational efforts of the Museum beyond the borders of our grounds and desert home, out into the world. You'll find these titles on the shelves of your Pima Country Public Library Branch, and for sale in the Museum gift shop, local bookstores, as well as our website. More information about the Southwest Books of the Year.
A Natural History of the Santa Catalina Mountains, Arizona:
with an Introduction to the Madrean Sky Islands
This watershed book takes us behind the picture-postcard views and into the landscape, where we can understand, appreciate, and enjoy the natural history of the spectacular Santa Catalina Mountains. Its vividly illustrated chapters and nine picture guides (featuring native flora and fauna) paint a rich portrait of this famous range.

Mountain Trees of Southern Arizona: A Field Guide
A unique guide to our amazing native trees, this book features common and notable trees growing at 4,500 feet or more in the Sky Islands of southern Arizona.

Victor, the Reluctant Vulture
Victor follows the innocent but impossible dreams and adventures of a young vulture who, through experience and the support of his family and community, finds his own self-worth.

Mission San Xavier:
A Story of Saints and Angels, Art and Artists / Una Historia de Santos y Ángeles, Arte y Artistes
Saints and angels, missionaries and Indians, artists and conservators populate this fascinating introduction to a house of spirit, a Sonoran Desert landmark, and an artistic bridge to another era.

Hip, Hip, Hooray, It's Monsoon Day! / ¡Ajúa, Ya Llegó el Chubasco!
The author lushly illustrates the Sonoran Desert rainy season, describing in English and in Spanish the ways in which people anticipate and celebrate the monsoon, as well as the meteorological phenomena behind the storms and the adaptations they have caused in local wildlife.

Vanishing Circles: Portraits of Disappearing Wildlife of the Sonoran Desert Region
Vanishing Circles is a richly illustrated volume documenting an important Desert Museum exhibition and showcasing the beauty and diversity of species rapidly disappearing from the American Southwest.

A Desert Illuminated: Cactus Flowers of the Sonoran Desert
This unique book combines stunning four-color photographs of cactus blooms of the Sonoran Desert with critical essays on cacti, their history, and their effect on the desert landscape and ourselves.

Desert Gardens: A Photographic Tour of the Arizona-Sonora Desert Museum
Join us on a photographic tour of the spectacular Arizona-Sonora Desert Museum!

Katie of the Sonoran Desert / Katie del Desierto Sonorense
This is the true story of Katie, a meter-long western diamondback rattlesnake, and her adventures as she struggles to make a life for herself in the harsh Sonoran Desert.

The Little Saguaro / El sahuarito
The Little Saguaro/El sahuarito is a heartfelt story about life's joys and challenges, as revealed in a conversation between a mother saguaro and her daughter.

Mountain Wildflowers of Southern Arizona: A Field Guide to the Santa Catalina Mountains and Other Nearby Ranges
This definitive full-color field guide features images and notes on more than 370 species of southern Arizona's flowering plants growing at 4,500 feet and above.

Beetles of the Sonoran Desert
Meet the Beetles! Use this handy pocket guide to help you identify the common beetles of the Sonoran Desert.

More Suggestions:

A Natural History of the Sonoran Desert (Soft Cover)
Our award-winning desert reference is back-ordered at Amazon, but you can get it from us now!

A Field Guide to Desert Holes - Revised Edition
Open your eyes to a whole new world with this unique field guide!

Pollinators of the Sonoran Desert, a Field Guide
This bilingual book contains descriptions, tips, full-color photographs and illustrations of the most common pollinators of the Sonoran Desert.

Dining with the Desert Museum
Favorite Recipes from the Arizona-Sonora Desert Museum
A fine cookbook offering the best of our old favorites and new Southwest cuisine!
Shipping and handling charges: Free shipping for orders of $25 or more.
For all other orders, shipping is $6.50. Please note we cannot ship to PO boxes; please provide a street address.
Arizona-Sonora Desert Museum Studies in Natural History

(Note: The following books are ordered through the University of Arizona and do not qualify as ASDM free shipping candidates.)

Sea Turtles of the
Eastern Pacific

Aridland Springs

Migratory Pollinators

Gulf of California

Invasive Species

Desert Tortoise