Earth Day Poetry Contest 2020
sponsored by the


Coati Kids Club
of the Arizona-Sonora Desert Museum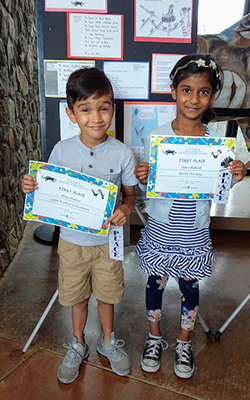 2019 Earth Day Poetry Contest Winners
Kiran and Zahra
The 2019 Earth Day Poetry Contest was a big success, with over 500 entries from schools throughout Tucson and beyond! We had several winners. Read the first place winning poems!
For children grades K-6. Winners from each grade level will be chosen.
Each student who would like to enter should write a poem about the Sonoran Desert — how this place is their home, or animals, plants, the landscape, observations, feelings, hopes — whatever is important to that student.
Teachers: please send in all entries from your classes with students' names, their grade level, your name, and the school name posted on the front or back of the poem. Please also send us your school mailing address, phone number, and your e-mail address. Only individual entries will be accepted, no class entries.
Poems should be submitted (postmarked) to the address below by March 26, 2020*:
ASDM Coati Kids Club
2021 N. Kinney Road
Tucson, AZ 85743
*Please send a self-addressed stamped envelope if you want us to return your poetry.
Entries will be judged on originality and content by a panel of Desert Museum and UA Poetry Center judges. Teachers of winning entries will be notified by April 22, 2020. Winners' families will be invited to a reception and reading of all winning entries at the Desert Museum on May 9, 2020. The first place winner from each grade will win a 2020 membership to the Coati Kids' Club!
The reception and reading will be held on Saturday, May 9, 2020, grades K-3 at 2:00 p.m., grades 4-6 at 3:30 p.m.
Plus, one overall winner from grades K-3 and one from grades 4-6 received a FREE Desert Museum live animal outreach program to their school in May! Tucson area schools only.
For additional information call Robin Kropp in the ASDM Education Department at (520) 883-3034 or e-mail rkropp@desertmuseum.org.