Exhibitions and Special Events
In the Ironwood Gallery
The Ironwood Gallery is open daily from 10:00 a.m. to 4:00 p.m.
Please call 520-883-3024 to check gallery hours for the day you plan to visit. The Ironwood Gallery may occasionally be closed for special events.
See also our Baldwin Education Building Exhibits
Cory Trépanier's
Into the Arctic

June 10 - August 20, 2017
Cory Trépanier is a fellow of the Royal Canadian Geographical Society, and was named one of Canada's Top 100 Living Explorers by Canadian Geographic magazine in 2015. He is also a member of the Explorers Club of Canada, and was recently honored with its highest award, the 2015 Stefansson Medal. "Into the Arctic" showcases Arctic oil paintings and films from Trépanier's Arctic expeditions to the furthest reaches of the Canadian North, a wilderness so remote and untouched, that many of its landscapes have never been documented before. For more information visit: http://www.intothearctic.ca/exhibitiontour/
A David J. Wagner Traveling Exhibition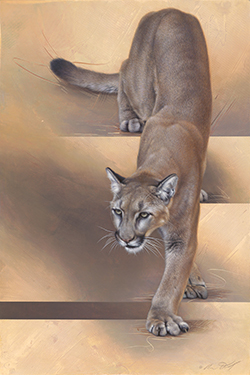 © Andrew Denman
Cougar Descending a Staircase
Puma: Past and Present

September 16 - December 25, 2017
This year, we at the Desert Museum are joyfully celebrating the 65th anniversary of interpreting the Sonoran Desert for our visitors. Since George L. Mountainlion arrived in 1953 he has reigned as the Museum's all-time icon. Guests consistently embrace the mountain lion as a favorite subject in our gallery. To honor the museum's birthday, we are putting together a very special art exhibit showcasing the mountain lion in the Ironwood Gallery. Juried works will be displayed alongside selected master works from around the globe. The Desert Museum is excited to showcase the many creative talents of our members through this exciting upcoming exhibition!