Exhibitions and Special Events
In the Ironwood Gallery
The Ironwood Gallery is open daily from 10:00 a.m. to 4:00 p.m.
Please call 520-883-3024 to check gallery hours for the day you plan to visit. The Ironwood Gallery may occasionally be closed for special events.
See also our Baldwin Education Building Exhibits
Puma: Past and Present

September 16 - December 25, 2017
Opening Reception:
Saturday, September 16, 2017
3:00 - 5:00 p.m.
This year, we at the Desert Museum are joyfully celebrating the 65th anniversary of interpreting the Sonoran Desert for our visitors. Since George L. Mountainlion arrived in 1953 he has reigned as the Museum's all-time icon. Guests consistently embrace the mountain lion as a favorite subject in our gallery. To honor the museum's birthday, we are putting together a very special art exhibit showcasing the mountain lion in the Ironwood Gallery. Juried works will be displayed alongside selected master works from around the globe. The Desert Museum is excited to showcase the many creative talents of our members through this exciting upcoming exhibition!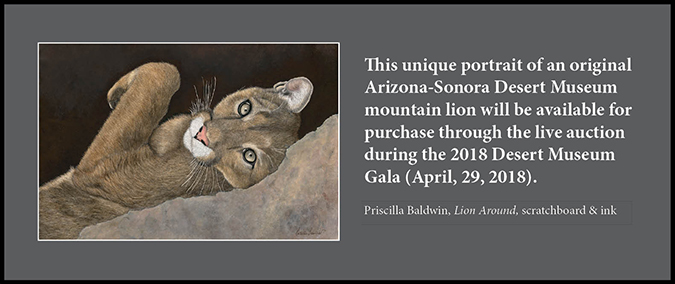 Participating Artists: Cher Anderson, Priscilla Baldwin, Patricia Banks, Marisol Blair, Natalie Brothers, Pam Cheeseman, Jennifer Clarke, Guy Combes, David Conklin, Ron Cornett, Sienna Dehaemers, Patrice Dello-Russo, Andrew Denman, Abigail Duron, Arella Duron, Sarah Duron, Aidan Ellefson, Dorian Escalante, Sharon Evans, Linda Feltner, Kathy Goepfert, Ray Goodwin, Annette Grantham, Katherine Grey, Jeannette Hanby, Evelyn Harrison, Yvonne Hazelton, Scarlett Heybrock, Vesper Heybrock, Susan Hildreth, Jim Hollon, Fred Hood, Grace Keane, Phaedra Kiesel, Donald Knight, Kayla Lancaster, David Lash, Stephen Law, Laura LePere, Rob MacIntosh, Avery Maland, Elaine Malott, Porter McDonald, Leslie Miller, Nadira Mitchell, Danika Neuhaus, Kyrsten Neuhaus, Jennie Norris, Anne Palmer, Denneen Peterson, Sylvia Pogosaew, Sandra Procida, Elizabeth Severs, Judy Studwell, Wil Taylor, Chip Travers, Mel Truong, Greta Ward, Susan Woodward, Paula Wouts-Hanson, Savannah Yerger