Discover the Desert Online — with Live Animals!
Virtual Programs for Youth and School Groups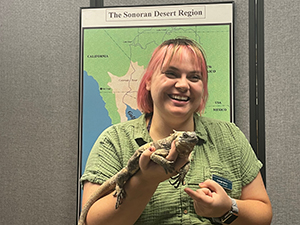 Discover the joy of the desert and the joy of learning alongside our expert Desert Museum educators, scientists, and of course live animals. Programs are offered Tuesdays-Fridays. Choose your date, time, grade level (PreK-12th) and favorite topic. Each program includes animals, bio-artifacts, extra online resources and downloads, and exclusive time for your group to have questions answered from an expert. Perfect for teachers, groups, and homeschoolers! Programs vary in length from 30 to ~45 minutes.
Your group can be gathered in one place or dispersed in their separate homes for these programs. Each will just need a tablet, smart phone or computer with audio to view the program. We can accommodate small groups (up to 30 people) as a Zoom Meeting or large groups (26-500 people) as a Zoom Webinar.
Need a different date, time, topic or have a much larger group? Reach out to us at education@desertmuseum.org.
Please contact our Reservations Coordinator education@desertmuseum.org to reschedule or cancel your program. The date of the email will determine any applicable fees. The following applies for all programs, including those paid with a Gift Certificate.
Rescheduling:

15+ days from your program: One-time free reschedule
0-14 days from your program: a $25 administrative fee

Cancellation:

11+ days from your program: Full refund less a $25 administrative fee
0-10 days from your program: No refund and full fee
Please allow up to 5 business days for a response. You will receive an email of an approved date and time. The reservation is confirmed when you receive your confirmation letter and a method of payment has been approved. For questions please call or email: 520-883-3025 or education@desertmuseum.org
Need something more? Reach out to us at education@desertmuseum.org