The Nature of Desert Nature
Thursday, December 3, 2:00 pm MSTThe current time in the MST timezone is 1:17 am
Duration: 00 minutes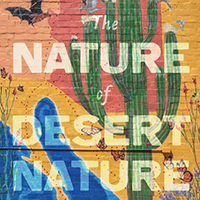 A conversation on the nature of desert nature with Gary Paul Nabhan, editor of the brand new book of the same name.
The last several decades of desert natural history have confirmed ancient wisdom: desert landscapes cannot be understood through a solo lens, a singular cause and effect mindset, or any dualistic paradigm. The desert is simultaneously empty and full, defensive and nurturing, competitive and cooperative. Gary will discuss this emerging view of the "Nature of Desert Nature", the varied perspectives in his upcoming book, and respond to your questions and observations.
"The Desert Museum has been the primary shaper of stories about the Sonoran Desert for the past half century, and there are stunning new stories to tell as well"
—Gary Paul Nabhan
Gary Paul Nabhan is the Kellogg Endowed Chair at the University of Arizona's Southwest Center. He is author or editor of more than thirty books, including Enduring Seed, Gathering in the Desert, and Food from the Radical Center. Honored with a MacArthur "Genius" Award, a Lannan Literary Fellowship, the John Burroughs Medal for nature writing, and other awards, Gary has lived in the desert for more than forty years.
You may also be interested in this partner event:
Register below