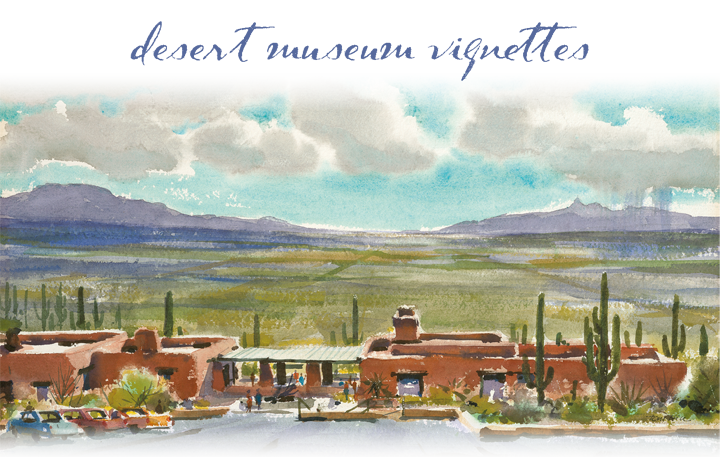 A Desert Museum Merv Larson Celebration 'Walk-Around'
Merv Larson
1930 — 2022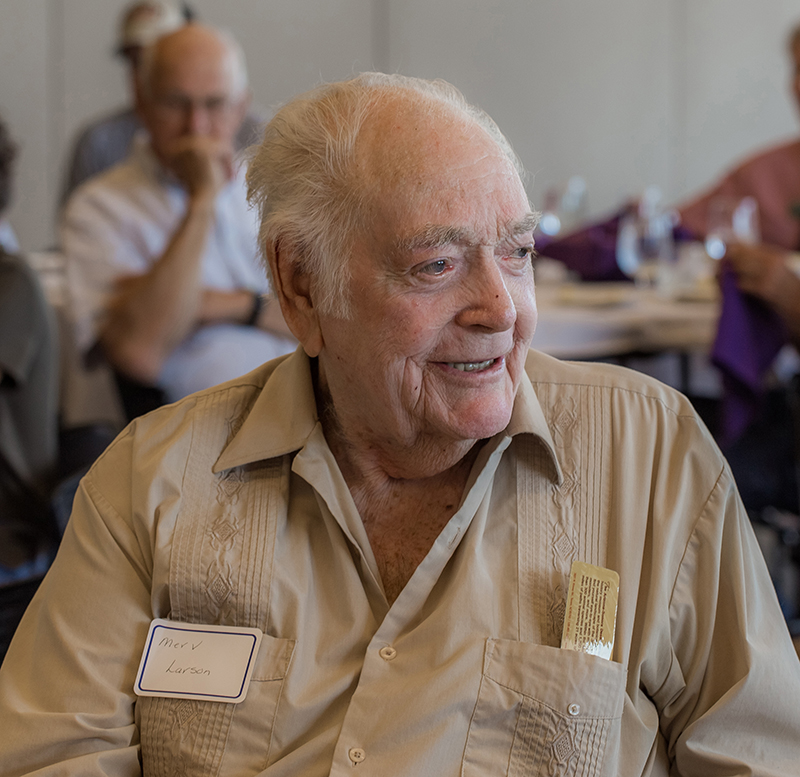 A Desert Museum Merv Larson Celebration 'Walk-Around' — October 27, 2022
Merv Larson, Arizona-Sonora Desert Museum's (ASDM) former Executive Director and long-time employee, passed away in August, 2022. The love, respect and admiration for Merv was clearly demonstrated at a recent 'walkaround' at ASDM in October, 2022, which was attended by a diverse group who enthusiastically celebrated Merv's vision and accomplishments. Attendees represented a wide range of southern Arizona, national and international interests including the Desert Museum, The Larson Company (or TLC as he liked it to be known), the Alamos/Mexico hotel contingent, Tucson's 'plant guys' and more. The walking tour featured stops at key Museum 'Merv' sites including:
The Cave

where we learned about the Cave's design and its 'walking timeline' along with Frank Retes footprint!

Cat Canyon

where we learned about Chuck Hanson's tricks for tracking 'escapee cats' with a 'flour trail'. And we learned about Peggy Larson's writing credentials — and her 1966 appearance on 'To Tell The Truth'.

Bighorn Sheep

where we learned about the introduction of the sheep to the exhibit — and Merv's dubious AZA 'Goof of the Year' award.

Desert Garden

where we learned about Merv's love of plants from both Arizona and Sonora and his love for the Pinacates.
And we moved into the Octotillo Café for more Merv 'tales' and fellowship — plus cookies and lemonade!

Enjoy!
---
Partial List of Attendees:
Jennifer Albers
Lance Angerhofer
Barbara Angerhofer
Mark Berard
Deborah Beggy
Nick Besenick
Steve Brigham
Bill Broyles
Roger Carpenter
Bob Dahl
Sarah Dahl
Cynthia Dowdall
Doris Evans
David Hand
Becky Hicks
Jeremiah Hobby
Craig Ivanyi
Gene Joseph
Liz Kemp
Judy Koehler
Aaron Larson
Betsy Larson
Ché Larson
Lane Larson
Peggy Larson
Ryan Larson
Wanda Larson
Jonquil LeMaster
Michael Lord
Janice McCague
John McCague
Kimberly McDonald
Bob Perrill
Karen Sausman
Anne Warner
Lynnae Wenker
Debbe Wilson
Nick Wilson
John Woodin
Note: If you have Merv 'memories' that you'd like to share, please email them to info@desertmuseum.org or mail them to the Arizona-Sonora Desert Museum, 2021 N. Kinney Rd., Tucson AZ 85743 — Attention: Merv 'memories'.
Photos and videos courtesy of Liz Kemp and Betsy Larson.