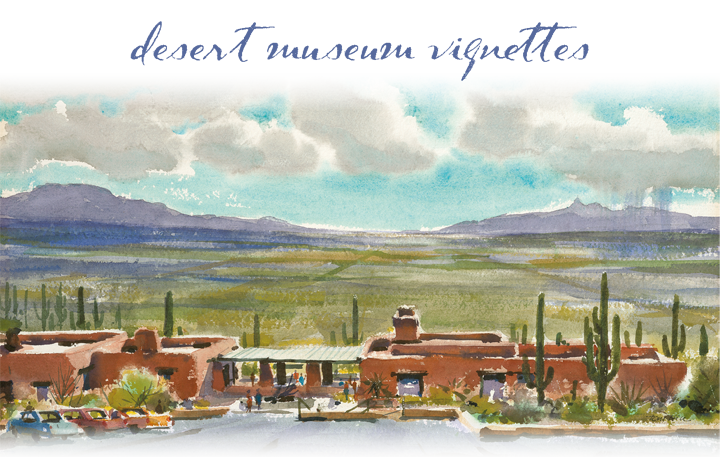 Steaks, Peccary Dung, and an Island in the Gulf
An Introduction to Lewis Wayne Walker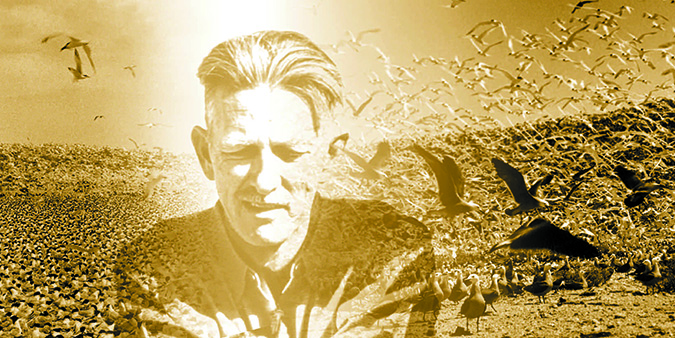 In the words of Peggy Larson, ASDM Librarian and Archivist:
One afternoon in 1953, I was in the Stablekeeper's House at the Museum, and I heard the sound of a motorcycle approaching and stepped outside —
And up rode a stranger who introduced himself as Lew Walker, an old friend of Bill Carr's. I directed him to the main building where Bill was working. Later that afternoon Bill came up — and keep in mind that Bill was eating dinner with us every night — and told me, "You know, you need to invite Lew to dinner tonight." But then he added, "But Lew only eats steak!" Well, I definitely didn't have any steak. So Merv and I made a mad dash over Gates Pass to the grocery store and bought steak. Later, Lew and Bill arrived for dinner just as Merv was building the fire outside and Lew said,"I'll cook the steaks — but you really need to add peccary dung to get a good flavor!" Trust me, there was no lack of peccary dung at the Museum! So, over the mesquite and dung fire, Lew eventually cooked the steaks, which actually were delicious!
Lew Walker had arrived at the Desert Museum!
Lew served as Associate Director of ASDM from 1954-1970. 'Lew was an outstanding author, photographer, designer, builder, naturalist, ornithologist, storyteller and all around good — if slightly wild — guy!' — Merv Larson
And like many in the early days of the Museum, he 'wore multiple hats'.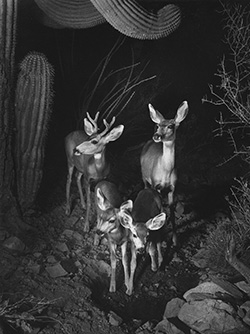 Photographers from across the U.S. trekked to Tucson to take advantage of the Desert Museum's wildlife blind that Lew designed and built. To quote Lew: '— the wildlife blind has worked its special magic on us, transforming hunters into photographers and laymen into naturalists.' 1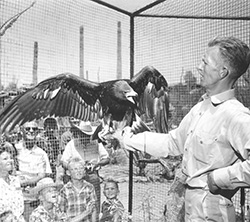 Lew was fascinated by falconry. He designed the original ASDM circular bird enclosures and enjoyed serving as host for local school children and other Museum guests. Lew also designed and helped build the original coatimundi and black bear open enclosures as well as the dens and bat cave in the Museum tunnel.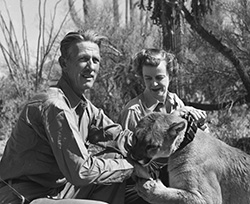 Lew and Melanie Walker with George L II, (late 1950s)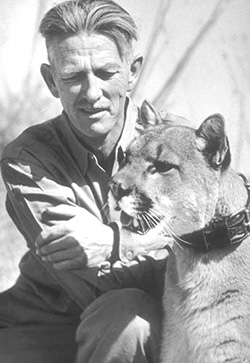 Lew Walker and George L II (again late 1950s)
ASDM visitors thrilled to see Lew walking George L and his successors on a chain throughout the grounds.
Lew was a prolific writer and photographer, publishing over 2,000 books and articles. Here's a sampling:
Photoflashing Western Owls/ The National Geographic Magazine — April, 1945
Sea Birds of Isla Raza, Baja California/ The National Geographic Magazine — February, 1951
Around the Clock at a Water Hole/ Arizona Highways — September, 1954
Arizona's Window on Wildlife/ The National Geographic Magazine — February, 1958
Baja's Island of Birds/ Pacific Discovery — California Academy of Science — August, 1965
Return of the Masked Bobwhite — Special Bulletin/ Arizona-Sonora Desert Museum — 1964
Survival Under the Sun — 1971
But Lew is perhaps best known for his efforts to protect natural habitats in the Gulf of California, specifically Isla Raza. Isla Raza is less than a square mile in extent and at its highest point not quite 100 feet above sea level. Yet, it is the primary nesting area for both Royal and Elegant Terns, and the main breeding location for the Heermann's Gull. It is estimated that Gulf of California islands, primarily Isla Raza, provide nesting habitat for 90 percent of the North American populations of these three species. Lew Walker began exploring Baja California and the Sea of Cortez in the late 1930s. He first visited Isla Raza in 1946.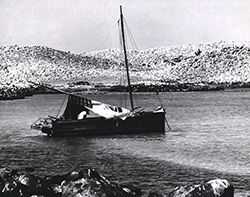 Lew's first means of exploring the Gulf of California
'One of the world's densest avian nesting populations, located approximately 400 miles south of the head of the Sea of Cortez, would have been irreparably lost in the 1960s if not for a small group of U. S. and Mexican conservationists, one concerned benefactor and the President of Mexico. The man who brought these people together, who originally recognized the threat to the birds, publicized it, and began the movement that would result in the creation of the Isla Rasa Migratory Waterfowl Sanctuary, was Lewis Wayne Walker' — Peggy Larson 2
Over the years, Lew worked tirelessly with key natural history leaders such as Dr. Joseph Wood Krutch, ASDM Trustee, Kenneth Bechtel, San Francisco industrialist and Board member of the California Academy of Sciences, Bill Woodin, Merv Larson, Roger Tory Peterson — renowned ornithologist, author, artist and an administrator with the National Audubon Society, Dr. George Lindsay, California Academy of Sciences, and Carl Buchheister, President of the National Audubon Society to focus international attention on the importance of Isla Raza and the Gulf of California Islands.
On May 30, 1964, President Lopez Mateos signed a decree which named Isla Raza a Migratory Waterfowl Reserve, a move that ultimately led President Jose Lopez Portillo to decree in August, 1974 that all of the Gulf islands were to have similar protection, their plants and animals to remain undisturbed. The resulting reserve is the 'Islas del Golfo de California Area de Protección de Flora y Fauna'.
'Lew's successful efforts to interest people in the establishment of the Republic of Mexico's first bird sanctuary, on the island of Raza, in the Gulf of California, will always remain a leading accomplishment in the field of wildlife conservation. Here once again, Lew's knowledge, persistence and dedication triumphed.' 3 — Bill Carr
In the words of Melanie Walker, 'Lew's proudest achievement was the role he played in the creation of this sanctuary.' Lew's ashes were distributed on La Raza by long-time friends, Steven and Michael Voevodsky.
---
Notes
Lewis Wayne Walker/National Geographic, February 1958
Peggy Larson/ASDM Sonorensis, Winter 2002
Bill Carr/ Address — Testimonial Dinner for Lewis Wayne Walker, December 1970
---
This vignette is extracted in part from a variety of ASDM archival sources including: Bill Carr's Testimonial Address for Lewis Wayne Walker — December 4, 1970, ASDM Sonorensis/Winter 2012, ASDM Sonorensis/Winter, 2017, Oral History remarks from Peggy Larson and Merv Larson/2018 & 2020. Merv Larson took many of the photographs used in this vignette. The vignette was produced by Anne C. Warner.