A Celebration of the Poetry and Natural History of the Sonoran Desert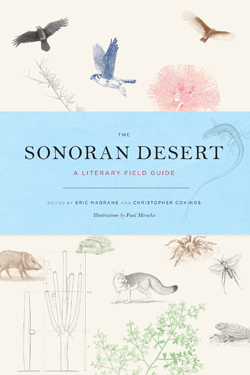 Please join us for a unique afternoon of poetry at the Arizona-Sonora Desert Museum
Date: Sunday, March 6th, 2016

Program
2:00 - 3:00 p.m.

Readings by contributors to the newly released The Sonoran Desert: A Literary Field Guide
Remarks by Craig Ivanyi, Executive Director of the Arizona-Sonora Desert Museum
Warden Oasis Theater

3:00 p.m.

Book Signings, Taylor Plaza

3:00 - 5:00 p.m.

Visits to the Woven Words Poetry Installations on the Museum grounds
Reservations
Thank you so much for your interest, there are no more seats available for this event.
Featured Poets and Presenters
Craig Ivanyi

Craig Ivanyi is the Executive Director of the Arizona-Sonora Desert Museum, where he has worked since 1984 in various positions, including Collections Manager and Curator of Herpetology. His background is in wildlife and fisheries, with an emphasis on reptiles, amphibians, and freshwater fishes, as well as in the interpretation of Sonoran Desert herpetofauna for the general public. His current focus is on museum administration and conservation of the Sonoran Desert Region.

Kristen Nelson Website

Kristen E. Nelson is the author of Write, Dad (Unthinkable Creatures Chapbook Press, 2012). She has published creative work in the Feminist Wire, The VOLTA, Denver Quarterly, Drunken Boat, Tarpaulin Sky, Dinosaur Bees, Quarter After Eight, Spiral Orb, Glitter Tongue, Dictionary Project, Trickhouse, In Posse Review, Cranky, and Everyday Genius, among others. She is a founder and the executive director of Casa Libre en la Solana, a nonprofit writing center in Tucson, Arizona.

Ken Lamberton Website

Ken Lamberton's first book, Wilderness and Razor Wire, won the 2002 John Burroughs Medal for outstanding nature writing. His latest book, Chasing Arizona: One Man's Yearlong Obsession with the Grand Canyon State (University of Arizona Press, 2015), is a twenty-thousand mile joyride that takes readers across the state to fifty-two destinations in fifty-two weeks. Lamberton holds degrees in biology and creative writing from the University of Arizona and lives with his wife in an 1890s stone cottage near Bisbee where he is often haunted by mountain lions.

Wendy Burk

Wendy Burk is the author of two chapbooks, The Deer and The Place Names the Place Named, as well as the translator of Tedi Lopez Mills's While Light Is Built and Arcadia in Chacahua. She is the recipient of a 2013 National Endowment for the Arts Translation Projects Fellowship and a 2015 Arizona Commission on the Arts Artist Research and Development Grant.

M.E. Wakamatsu

M. E. Wakamatsu was born in the border town of San Luis R.C., Sonora, Mexico. The daughter of a Mexican mother and Japanese father, she writes from the border between cultures, between patterns of discourse, between first and third worlds. She graduated from Arizona State University.

Rebecca Seiferle

Rebecca Seiferle was appointed Tucson poet laureate in 2012. Her fourth poetry collection, Wild Tongue (Copper Canyon Press), won the 2008 Grub Street National Poetry Prize. She was awarded a 2004 Lannan Literary Fellowship for Poetry.

Farid Matuk

Farid Matuk is the author of This Isa Nice Neighborhood (Letter Machine Editions, 2010) and My Daughter La Chola (Ahsahta Press, 2013). His poems have appeared in the Boston Review, Denver Quarterly, Poetry, Iowa Review, Critical Quarterly, and Baffler, among others. Matuk is an assistant professor of English and creative writing at the University of Arizona.

Josh Wilkinson Website

Joshua Marie Wilkinson is the author of eight books, the editor of five anthologies, and the director of a film about Califone. He lives in Tucson, where he runs a poetry site called The VOLTA and a small press called Letter Machine Editions. He teaches in the MFA program in creative writing at the University of Arizona.

Kimi Eisele Website

Kimi Eisele is a writer, visual artist, and dancer/choreographer. Her work explores relationships — joyful, complicated, and interdependent — between people and place, humans and nature, movement and stillness, suffering and surrender.

Ofelia Zepeda

Ofelia Zepeda is a member of the Tohono O'odham Nation and is currently regents' professor of linguistics and director of the American Indian Language Development Institute at the University of Arizona. She has published three books of poetry, including poems in the O'odham language.

Eric Magrane Website

Eric Magrane is the first poet in residence at the Arizona-Sonora Desert Museum. He has been an artist in residence in three national parks and is the founding editor of Spiral Orb, an experiment in permaculture poetics. He is currently completing his PhD in geography at the University of Arizona.

Chris Cokinos

Christopher Cokinos is the author of several books, including Bodies, of the Holocene and Held as Earth. He teaches in the creative writing program at the University of Arizona, where he is also affiliated faculty with the Institute of the Environment. He divides his time between Tucson and Logan Canyon, Utah.

Paul Mirocha

Paul Mirocha's illustrations first appeared in Gathering the Desert by Gary Paul Nabhan, winner of the John Burroughs Medal for natural history in 1985. Since then he has illustrated over twenty picture books for children on plants and animals, as well as works by contemporary nature writers, among them Jean Craighead George and Barbara Kingsolver. Mirocha's work is included in The Very Best of Children's Book Illustration, compiled by the Society of Illustrators.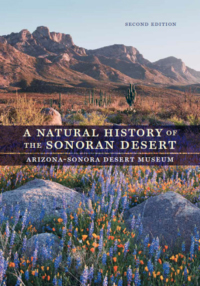 A Natural History of the
Sonoran Desert, 2nd Ed.
A publication of the ASDM Press
Woven Words is an exciting collaboration that pairs two Tucson cultural institutions: the Arizona-Sonora Desert Museum and the University of Arizona Poetry Center. The project features numerous poetry installations throughout the Museum grounds, each underscoring the profound relationship between knowledge, the imagination, and an ethos of conservation.