The Hummingbird Aviary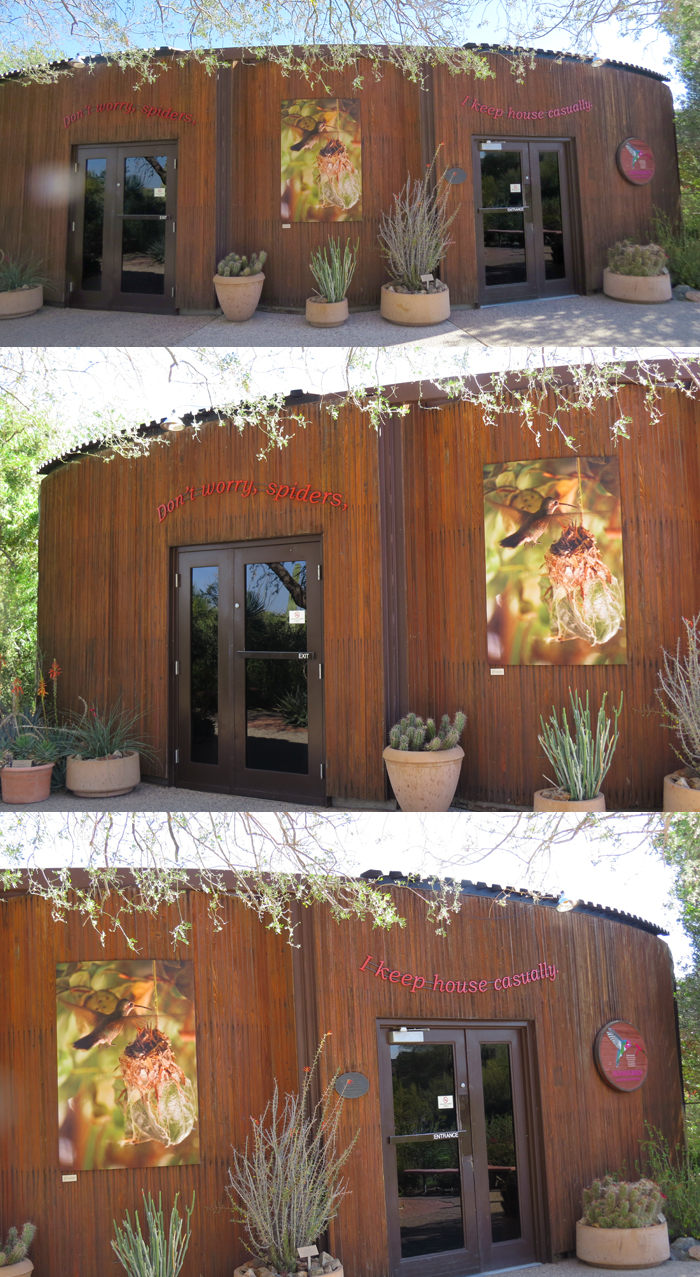 Photo by M. Paganelli
Don't worry, spiders,


I keep house


casually.
This lovely poem now lives above the entrance and exit doors to the Hummingbird Aviary as part of the Desert Museum's Woven Words project.
The poem, actually a haiku, is by Japanese poet Kobayashi Issa (1763-1827), and is translated from the Japanese by former U.S. poet laureate Robert Hass. It has been specially selected by ASDM poet in residence Eric Magrane to complement the large hummingbird photo by Tucson photographer and artist Cita Scott, also part of the installation.
"This Issa poem, in conjunction with the beautiful photo by Cita Scott, relates to a Desert Museum story that illustrates so well the ecological idea of interrelation," says Magrane. "Some years back, the Desert Museum renovated the hummingbird aviary. After the renovation, when the hummingbirds were reintroduced, the birds' nests weren't holding together. The spiders had inadvertently been removed in the renovation, and the hummingbirds needed the spider webs to help hold their nests together. So folks went around the grounds gathering spiders and webs to re-introduce to the aviary."
While the poem reflects the interdependence of species, the photograph of a hummingbird in the nest with her babies vividly shows the drape of the webs used to create this tiny work of art. The combination of photography with this evocative poem is just one more example of how nature and art are woven into the fabric of the Desert Museum.
"The poem is brief, but also has great depth," says Magrane. "How many ways one can interpret the metaphor of the house! I hope the piece will encourage those who encounter it to reflect on what kind of house we want to live in with all the other species with whom we share the Sonoran Desert."
We hope you enjoy this latest installation.