A Natural History of the Sonoran Desert, 2nd Edition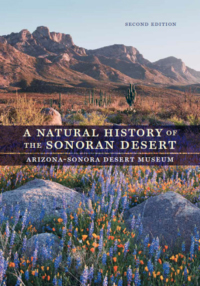 Order here
At this time, online book sales through the Desert Museum's web site have been temporarily disabled. We encourage you to visit us in person and browse our extensive book collection at our Gift Shops.
Edited by Mark Alan Dimmitt, Patricia Wentworth Comus, and Linda M. Brewer
$39.95
$35.96 Member Price
2015
ISBN: 978-0-520287-47-1
Soft cover; 590 pages
7 x 10 inches
Published in collaboration with the University of California Press
Description
The landscape of the Sonoran Desert Region varies dramatically from parched desert lowlands to semiarid tropical forests and frigid subalpine meadows. Covering southeasternmost California, much of southern and central Arizona, most of Baja California, and much of the state of Sonora, Mexico, it is home to an extraordinary variety of plants and animals. A Natural History of the Sonoran Desert takes readers deep into its vast expanse, looking closely at the relationships of plants and animals with the land and people, through time and across landscapes.
This new edition adds chapters on the Sky Islands, Sea of Cortez, desert pollinators, and conservation issues. Taxonomic nomenclature has been updated and new color plates and figures have been added. This comprehensive natural history, like the original edition, will surely become an invaluable companion for nature enthusiasts, birdwatchers, hikers, students, naturalists, and anyone interested in the desert Southwest.
In accessible language, more than forty scientists and/or naturalists examine the region's biodiversity, geology, weather, plants, and animals (from invertebrates to fish, amphibians, reptiles, birds, and mammals), as well as potential threats to the species and habitats. The text is supplemented throughout with anecdotes, essays, photographs, maps, diagrams, and 450 finely rendered drawings.
Reviews for the 1st Edition
"An indispensable guide for any desert visitor. . . It offers a complete look at Sonoran Desert ecology, with details on individual species and essays that bring the desert alive." — Sunset Magazine

"This book is a long, long, love letter. . . [It] tells you just about all you can think to ask about this lush and most beautiful of America's four deserts." —The Sonoran Quarterly

". . . immaculately produced, . . . Natural History is a storybook, a field guide, a lay geology, paleontology, and human ecology textbook, and a handy encyclopedia - and it reads as enjoyable as fiction." —The Americus Journal