Field Trip at the Museum: Self Guided Visit Only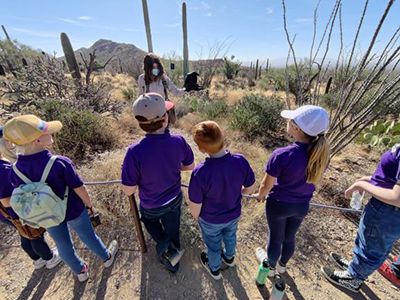 What can you do at the Desert Museum?
You can tour with the aid of one of our downloadable field guides, and add an up-close live animal program or Stingray Touch experience. Your students will enjoy real-world discovery of Adaptations, Structure & Function, Ecology, Ecosystems, and Conservation Issues.
Orientation Video
Help your students prepare for their field trip by showing them this short video, which explains what they will see and learn at the Museum, what the Museum environment will be like and how to behave to get the most out of their visit. Please share this link with your chaperones as well.
Reservations for the school/youth rate are limited to groups of 10 or more people and are granted based on availability. Groups must enter as a group. The instructor/teacher or leader should come to the ticket window to pay for and/or check in the entire group. Latecomers will pay the appropriate individual rate — not the discounted rate.
The school/youth group rate will not be honored for reservations submitted less than 15 days in advance of your earliest requested date.
Admission fee: $7 per person
Admission fee (Title1): $3 per person (Discount for admission only, all requests will be verified on the U.S. Department of Education website).
Stingray Touch Experience: $3 per person
Desert Explorers Live Animal Theater Program: $3 per person/ $149.00 minimum (requires a 30-day advance reservation). Please call 520-883-3025 prior to making a reservation to confirm availability.
Purchase orders are accepted and must be received at least 7 business days from making your reservation and emailed to education@desertmuseum.org. Payments made by check, credit card, or cash (in one lump sum) will be collected at the ticket window when you arrive. Discount coupons and guest passes cannot be combined with the school/youth group rate.
Snacks and lunches are allowed only in the picnic area and food must remain in vehicles until ready to eat. Fourteen picnic tables are available in our lunch ramada next to the bus-loading zone. Typically space in the ramada is first-come, first-served. During busy times it may be necessary for us to schedule school lunch times. Scheduled lunch times may depend on your time of arrival/departure and other factors. Due to tighter schedules, schools with Education programming will receive priority. Small groups may be scheduled to eat together. The Museum is not able to store lunches, backpacks, or any personal belongings during your visit. Water bottles are permitted on the grounds.
Dining Options are available for elementary school/youth groups at our Ironwood Terraces Restaurant, contact Anna Boudoin aboudoin@craftculinary.com.
Supervision: We require 1 adult per 7 students/youths in grades K-12. Before you arrive, assign chaperones to their group of students. Enter the grounds in small groups of no more than ten students. Groups should tour the grounds in different directions. Adults are responsible for behavior of students in their group. Chaperones must stay with their group at all times. All chaperones are expected to read and adhere to the chaperone guidelines.
View chaperone guidelines here.
All individuals in the group should have adhesive nametags with their name and name of school or organization.
If a student/youth is lost or injured, contact a Museum Docent or Staff and/or go to the Entrance Patio ticket window.
View Map to ASDM and parking (PDF)
View Self-Guided Visit map
You will receive a confirmation letter by email at least 7 days from the date you submit reservation. Your confirmation letter will confirm date and additional details of your reservation.
Have separate count of adults and students/youths. Everyone must enter as a group to receive school/youth rate. Latecomers pay full amount.
Students should bring hats and sunscreen and each person should have their own refillable water bottle.
Vehicles
Buses use bus‐loading zone near the picnic area to load and unload. Buses must park in bus/rv parking area. Bus drivers are admitted free of charge. Remember: keep all food on buses until it is your scheduled lunchtime if eating at the picnic area. Make sure all chaperones know what time to meet back at your bus or picnic ramada at the end of your visit.
Teacher/Group Leader should proceed to the ticket window to pay for the group. Provide an accurate head count for students and adult chaperones. A Museum Staff/Volunteer will then greet and give instructions of where to unload and quickly go over rules and behavior expectations. If your visit includes a Stingray Touch or Theater Program, you will be given additional instructions.
We expect the number of students and adult count may change by a few. Contact us immediately with updated information. If cancellation is made more than 15 days from scheduled date, a $25 administrative fee will apply. No refunds can be made within 15 days. Please notify us as soon as possible of a cancellation or change. Contact us at 520-883-3025 or email: education@desertmuseum.org.
No shows or cancellations with less than 24-hour notice may be billed full amount and/or denied future reservations.