Research and Conservation in Southern Sonora, Mexico
Tillandsia capitata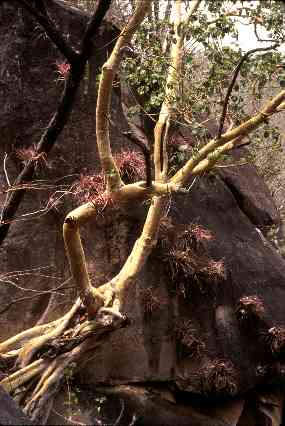 Tillandsia capitata on the walls of a canyon in the Sierra de Alamos. The tree is Ficus petiolaris. Photo: Mark Dimmitt
Spreading rosettes of soft, pubescent, gray-green leaves to about a foot wide. Intermediate between an an atmospheric and a tank epiphyte. The rosettes will hold a small amount of water for a short period after a rain, giving the plant additional time to rehydrate.
The upper leaves turn reddish at maturity, when lavender flowers emerge from the capitate inflorescence. The flowering rosette dies after flowering and producing offsets at the base.
Fairly common in wet riparian canyons in tropical deciduous forest and lower oak woodland, usually on rock faces and sometimes on trees. The species is quite variable throughout its range which extends to Guatemala and the Caribbean islands.
| | |
| --- | --- |
| Mature Tillandsia capitata on a rock face in the Sierra de Alamos. Photo: Mark Dimmitt | Inflorescence of Tillandsia capitata from the Sierra de Alamos, Sonora. Photo: Mark Dimmitt |