Research and Conservation in Southern Sonora, Mexico
Tillandsia cretacea (mezcalito)
Large rosettes to nearly two feet across consisting of many thin, broad, dark green leaves. The many-branched inflorescence may be three feet tall, with pink bracts and lavender flowers. Blooms in the fall. The plants usually do not offset and thus die after blooming. Usually grows on shady, vertical cliff faces in tropical deciduous forest and into oak woodland. The species is known only from southeastern Sonora and adjacent Sinaloa.
Tillandsia cretacea from southern Sonora grown in cultivation. Photos: Mark Dimmitt
Tillandsia cretacea is the only tank plant (phytotelm) in Sonora. The leaves of a tank plant form a water-impounding vase. This species will retain a reservoir of water for a few weeks after a rain. It is analagous to the succulent habit, but phytotelms store the water outside of their tissues.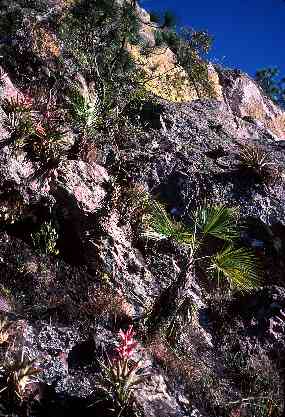 Several blooming Tillandsia cretacea plants on a steep rocky slope near Rancho Santa Bárbara northeast of Alamos, Sonora. This site is unusually exposed and the plants are a bit stunted. Photo: George M. Ferguson