Since 2005, the Arizona-Sonora Desert Museum has hosted "Dreamnight at the Zoo" for children who have special needs or who are chronically ill. This annual event is an exclusive evening for these children and their families to experience the Museum free of charge and without concern for social stigma and issues related to accessibility.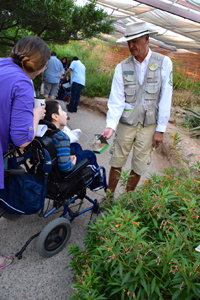 The concept for "Dreamnight at the Zoo" originated in 1996 at the Rotterdam Zoo (Netherlands) when animal keeper, Peter van der Wulp, acknowledged how rarely children diagnosed with cancer were able to visit the zoo. Peter knew that the families of these medically frail children often had other expenses to meet, had difficulty finding the free time to visit and the obstacle of being stared at or dealing with people's reactions were reasons to stay away. In response to these dilemmas, the Rotterdam Zoo developed an event where these children and their families could have a relaxing and fun experience at the zoo and Peter's idea has spawned a worldwide phenomenon.
Currently, there are over 300 institutions in 35 countries that participate by hosting Dreamnight at the Zoo and the Arizona-Sonora Desert Museum (along with Reid Park Zoo) believes that this event is one small way to give back to the Tucson community.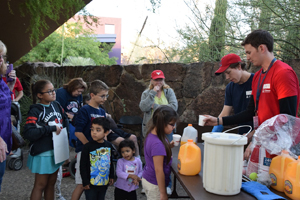 Special activities for 2016's Dreamnight included:
Animal Presentations
Arts and Crafts Activities
Star Gazing with Telescopes
Interactive Docent Stations
Commemorative Photos
Special Community Guests
And....much more!
The next Dreamnight at the Zoo will take place on Friday, October 12th, 2018 from 6:00 to 9:00 p.m. at the Arizona-Sonora Desert Museum. Please RSVP to:
Lauren Malanga
Volunteer & Internship Programs Coordinator
Arizona-Sonora Desert Museum
2021 North Kinney Road
Tucson, AZ 85743
520.883.3071
lmalanga@desertmuseum.org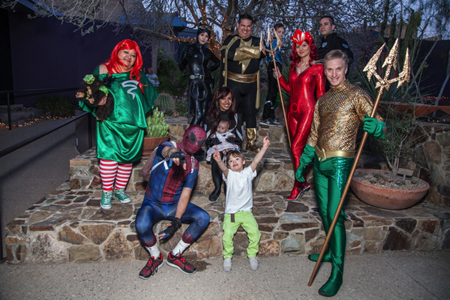 Check out the official
Dreamnight web site!


Many of our staff and volunteers help during this annual event, but there are a variety of other ways in which families, businesses and organizations can participate towards making this event a night to remember. If you'd like more information about how you can donate or become a sponsor of this event, please contact us at 520-883-3071.
Sponsored by: