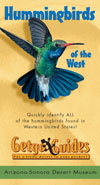 Hummingbirds of the West

Online Appendix
Where to see Hummingbirds
Hummingbirds can be seen throughout the west (especially in the summer months) in variety of places.
You can find the most active sites in your area by contacting local Audubon chapters (www.audubon.org will direct you to local chapters as well as various nature centers and preserves, many of which offer birding field trips).
Most state and national parks also provide information and bird lists for their areas as well as offering guided birding walks.
Many groups and communities sponsor birding festivals, with field trips to popular areas (visit www.americanbirding.org).
Nature store staff can direct you to good local birding spots as well as offering books, feeders and other bird related products.
Conservation
Although hummingbirds inspire great affection in humans and some species, like Anna's Hummingbird, have actually expanded their range due to the popularity of feeders and hummingbird gardens, hummers still face threats of loss of habitat, use of pesticides and predation by house cats. The following conservation group websites furnish information on ways that you can help birds while enjoying nature.
National Audubon Society
www.audubon.org
The Nature Conservancy
www.nature.org
American Bird Conservancy
www.abcbirds.org
National Wildlife Federation
www.nwf.org
The NWF sponsors the backyard wildlife habitat certification program.
Fun Hummingbird Links
Hummingbird Books
Krebbs, Karen. Hummingbirds: Beauty in Flight, Publications International, 2002.
Williamson, Sherri L. Peterson Field Guide Hummingbirds of North America, Houghton-Mifflin Co., 2002.
Howell, Steve. Hummingbirds of North America: The Photographic Guide, Academic Press, 2002.
Lazaroff, David Wentworth. The Secret Lives of Hummingbirds, Arizona-Sonora Desert Museum, 1995.
Johnsgard, Paul A. The Hummingbirds of North America, Smithsonian Institution Press, 1997.
Stokes, Lillian and Donald. The Hummingbird Book: The Complete Guide to Attracting, Identifying, and Enjoying Hummingbirds, Little, Brown and Co., 1989.
Tyrrell, Esther Quesada and Robert A. Hummingbirds, Their Life and Behavior: A Photographic Study of the North American Species, Crown, 1985.
Newfield, Nancy L. and Barbara Nielsen. Hummingbird Gardens: Attracting Nature's Jewels to Your Backyard, Houghton-Mifflin Co., 1996.