Hummingbirds of the West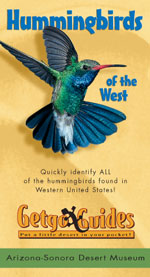 Order here
At this time, online book sales through the Desert Museum's web site have been temporarily disabled. We encourage you to visit us in person and browse our extensive book collection at our Gift Shops.
by Pinau Merlin
$4.95
$4.46 Member Price
2003
ISBN: 1-886679-24-x
Laminated, full color throughout
Folds to 3.25" x 6"
Description
Hummingbirds, with their iridescent plumage, pugnacious nature, and high-energy lifestyle, are some of North America's most captivating birds. They both fascinate and entertain. They also can be a challenge to identify for many people. That's why the Desert Museum produced this colorful new guide.
Small enough to fit easily in a pocket, purse, daypack, or glove box, Hummingbirds of the West is perfect for anyone wishing to quickly identify those avian jewels of the Western skies. Hummingbirds of the West couldn't be easier to use: observe your hummer, then compare it with the color photos in the guide. Distinctive features are pointed out for each species, making positive identification a snap. The guide also includes fascinating facts about hummers, viewing tips for beginners, and more. Laminated for extended durability.